ISLAMABAD, Pakistan (CNN) -- Twenty-five militants and six soldiers were killed Saturday night in two separate clashes between security forces and insurgents in Pakistan's tribal region, officials said.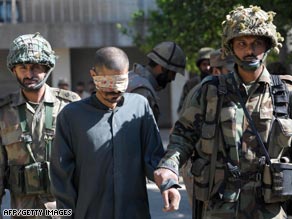 Pakistani solders escort a suspected Taliban militant inside an army base in Mingora.
Both clashes took place after militants ambushed security forces in South Waziristan, one of seven districts in Pakistan's mostly ungoverned tribal region along the Afghan border, said military spokesman Gen. Athar Abbas.
The clashes in South Waziristan were separate from an ongoing months-long military offensive in the Swat Valley.
Many analysts believe the army may launch an offensive to flush out militants from South Waziristan once it completes its campaign in Swat where the military claimed a major victory Saturday when it said its security forces had secured the key city of Mingora.
In the first incident Saturday, militants attacked an army check post near the village of Spinkai killing three soldiers and wounding six, Abbas said. Pakistani troops beat back the insurgents, killing 15.
In the second clash, insurgents ambushed a military convoy in a village north of Wana. Ten militants were killed in the ensuing firefight. Three soldiers were also killed, Abbas said.
Don't Miss
On Saturday, Pakistani military spokesman hailed the capture of Mingora, the largest city in the Swat Valley where security forces have been fighting the Taliban in a month-long offensive.
"It is a great accomplishment," said Pakistani Maj. Gen. Athar Abbas. "This is the largest city in Swat and for all practical purposes, Mingora has been secured."

Abbas said militants put up a stiff resistance, but their resistance weakened as troops moved in. Abbas told CNN pockets of militants remain just outside Mingora.
The fighting has uprooted about 2.4 million Pakistanis from their homes in the northwestern region of the country, according to the latest data from the United Nations. Of those displaced, about 10 percent -- or 240,000 -- are living in refugee camps, according to the U.N.
E-mail to a friend

CNN's Reza Sayah contributed to this report.

All About Taliban Movement of Pakistan • Pakistan