(CNN) -- India has criticized the release from house arrest of the leader of a Pakistani group linked to the Mumbai terror attacks.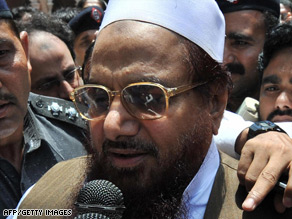 Pakistani police escort Hafiz Saeed outside court after a hearing in Lahore in May.
Hafiz Saeed -- whose group, Jamaat-ud-Dawa, provides social welfare programs to impoverished Pakistanis -- had been placed under house arrest after the Mumbai attacks.
He was released by the Lahore High Court in Pakistan after his lawyer submitted a petition, calling his detention illegal.
Pakistan banned the group after the U.N. Security Council designated it a terror organization because of its links to Lashkar-e-Tayyiba. That is the Pakistan-based Islamic militant group that India says was behind the killings of 164 people in the Indian city of Mumbai in November. India has accused Lashkar-e-Tayyiba of training the attackers, which the group has denied.
A.K. Dogar, Saeed's lawyer, said Saeed had no links to terror activity and no arms from him have ever been recovered. He said the house arrest had been based on the Security Council move against Lashkar, but the U.N. action had been wrongly interpreted by government authorities.
India voiced "serious doubts" about Pakistan's "sincerity" in dealing with terrorism after Saeed's release.
Saeed, along with Lashkar-e-Tayyiba and Jamaat-ud-Dawa, had a "long and well-established background of planning and launching terrorist acts against India," said Vishnu Prakash, India's external affairs ministry spokesman.
"His release raises serious doubts about Pakistan's sincerity in acting with determination against terrorist groups and individuals operating from its territory," Prakash said.
E-mail to a friend

CNN's Ingrid Formanek, Dan Rivers, and Harmeet Shah Singh contributed to this report.
All About Mumbai