By Daniela Deane
Special to CNN






(CNN) -- Donna Liu, then a CNN producer based in Atlanta, was on a leave of absence on a fellowship, when she ended up in Beijing in early April 1989 -- and called CNN Beijing Bureau Chief Mike Chinoy to see if he needed any help with the summit visit of Soviet leader Mikhail Gorbachev to China.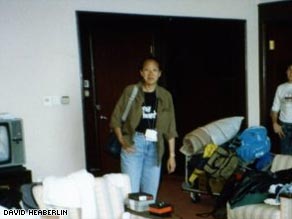 Donna Liu inside the Beijing Hotel in 1989. "You could hear the gunfire before you saw anything."
She had driven through Tiananmen Square and had seen the first banners made by students asking for reform. As a Chinese-American, and a long-time China watcher, Liu was intrigued.
"Mike said 'sure, come on in,'" Liu recalls. Neither of them knew then what was coming. "When I signed onto the story, I thought it was a summit."
Fast forward to the night of June 3.
Liu was in Tiananmen Square with camerawoman Cynde Strand when they first heard the gunfire.
"You could hear the gunfire before you saw anything," she said. "The first conflict happened further west of there.
"Then people began running some of the wounded back through the square, trying to go east. Others went in other directions. Some kids were coming back with blood on their hands, trying to help other kids. We shot (filmed) some of those. We talked to some of those people, we got their descriptions of what had happened."
Liu grabbed the tapes and tried to make her way back to "Tokyo base," the nickname for the room at the Beijing Hotel where CNN had set up a makeshift bureau as close as they could to the square.

See photos of the CNN team in Tiananmen Square in 1989 »
"As I was running from the monument (in the center of Tiananmen Square), the first truck of soldiers with rifles showed up at the northwest corner of the square," she said. "They lowered their rifles and started to shoot. I went out the eastern side. I believe they had deliberately left that open as an escape route. They were shooting to clear people off. They didn't seem to be aiming at anyone in particular."
Liu finally made it back the quarter-mile to the Beijing Hotel.
"When I walked through the front door, I was grabbed by Chinese security," she recalls. "They threw me against the wall, took my bag, and took the tapes."

"Those were the most dramatic pictures of the night," said Strand. "And they were confiscated."
Donna Liu is now Director for Strategic Initiatives at Princeton University's Woodrow Wilson School of Public and International Affairs
E-mail to a friend

Daniela Deane was a chief sub-editor at the Reuters news agency in Hong Kong during the Tiananmen crisis.