(CNN) -- The delayed trial of Myanmar pro-democracy leader Aung San Suu Kyi will resume on June 12, court officials said.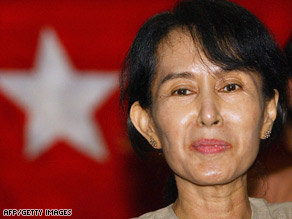 Myanmar opposition leader Aung San Suu Kyi has been held in confinement for 13 of the past 19 years.
The trial was to resume Friday, June 5, with closing arguments, after about a one-week delay. Instead, the high court said it will use that day to hear arguments from both sides on her attorneys' request to add three witnesses.
The court will make a decision on the new witnesses Tuesday.
Suu Kyi, who turns 64 on June 19, is accused of violating her house arrest by offering temporary shelter to American John William Yettaw, who swam to her lakeside home May 3. She said she doesn't know Yettaw, didn't know of his plans and denies she did anything wrong. Suu Kyi is charged with subversion.
The 53-year-old former U.S. military serviceman from Falcon, Missouri, testified repeatedly that God had sent him to Myanmar to protect Suu Kyi because he dreamed that a terrorist group would assassinate her.
Suu Kyi's lawyers petitioned the Yangon Divisional Court on Tuesday to allow the additional witnesses, in the hopes of overturning a rejection by a lower court.
The trial is taking place near Yangon, at Insean Prison, where Suu Kyi is being held.

Last week, the court examined Kyi Win, a Suu Kyi lawyer, for about three hours Thursday, said Nyan Win, a spokesman for the National League for Democracy.
Earlier in the week, Suu Kyi took the stand, telling the court she did not violate her house arrest when she offered temporary shelter to Yettaw.
E-mail to a friend

All About Myanmar • Aung San Suu Kyi