NEW YORK (CNN) -- The United States will consider expanding its options in dealing with North Korea amid rising tensions, said President Barack Obama's envoy to the secretive communist state.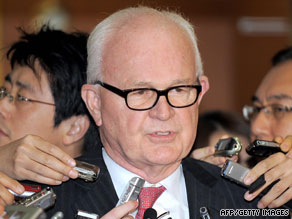 U.S. special envoy Stephen Bosworth says North Korean claims of U.S. aggression are "groundless."
But U.S. special envoy Stephen Bosworth said accusations by Pyongyang that its nuclear and missile tests were in response to American aggression were "simply groundless."
"Quite to the contrary, we have no intention to invade North Korea or to change its regime through force and we have made this clear ... repeatedly," Bosworth said during a speech to the Korean Society in New York on Tuesday night.
North Korea has recently conducted a nuclear test, fired test rockets, and threatened U.S. and South Korean ships near its territorial waters.
"North Korea's recent actions to develop a nuclear capacity and an intercontinental ballistic missile capacity will require that we expand our consideration of possible responses, including our force posture and options for extended deterrence," Bosworth said.
"However, the North Korean claim to be responding to a threat or a hostile policy by the United States is simply groundless."
Don't Miss
Washington has said it wants the North to return to nuclear negotiations with the United States, China, South Korea, Japan and Russia, known as the "six-party talks," Robert Wood, a deputy State Department spokesman told reporters this month.
Although the talks have been stalled for more than a year, Wood said, "just because things haven't worked doesn't mean you don't keep trying."
E-mail to a friend

All About North Korea • South Korea