ISLAMABAD, Pakistan (CNN) -- Thirteen people were killed and 20 more were wounded in separate attacks in Pakistan on Sunday, officials said.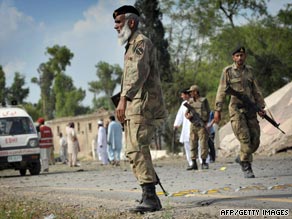 Government troops patrol in northwestern Pakistan on Friday.
In South Waziristan, a drone attack killed five militants, Pakistani intelligence officials said.
Local and Taliban sources also said all those killed were militants.
And in the North West Frontier Province, a blast in a market killed eight people and injured 20 others, officials said.
The bomb exploded in the city of Dera Ismail Khan, said Syed Mohsan Shah, the district coordination officer in the city.
The attack was retaliation for the massive military offensive against Taliban militants in the region, the city's police chief said.
The bomb, containing about 5 to 6 kilograms (11 to 13 pounds) of explosives, was placed in a rickshaw, said Police Chief Iqbal Khan.
Officers have taken into custody three suspects, he said.
The militants had threatened to attack cities in Pakistan until the operations end.
E-mail to a friend

All About Pakistan • The Taliban