(CNN) -- The number of uprooted people across the world dropped slightly last year, but new displacement this year in conflict zones like Pakistan, Somalia and Sri Lanka so far "has already more than offset the decline," the U.N. refugee agency said Tuesday.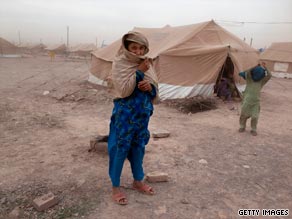 Pakistani displaced battle severe winds and dust at Jalozai refugee camp near Peshawar.
"Today, we are seeing a relentless series of internal conflicts that are generating millions of uprooted people," U.N. High Commissioner for Refugees Antonio Guterres said in a news release.
This is one of the main points in Global Trends, an annual report by the U.N. agency on developments regarding refugees, internally displaced people, asylum seekers and stateless people.
The number of "uprooted people worldwide" in 2008 was 42 million, a drop of about 700,000 from 2007, according to the report.
"In 2009, we have already seen substantial new displacements, namely in Pakistan, Sri Lanka and Somalia," Guterres said.
"While some displacements may be short-lived, others can take years and even decades to resolve. We continue to face several longer-term internal displacement situations in places like Colombia, Iraq, the Democratic Republic of the Congo and Somalia. Each of these conflicts has also generated refugees who flee beyond their borders."
The number of refugees and internally displaced people who returned home in 2008 was around 2 million, a decline from 2007, the report said.
Refugee repatriation, which was 604,000, was down 17 percent. Displaced people's returns were down by 34 percent at 1.4 million people.
"Traditionally the largest durable solution for refugees, it was the second-lowest repatriation total in 15 years," the report said. "The decline in part reflects deteriorating security conditions, namely in Afghanistan and Sudan."
The report listed other statistics and trends in 2008:
Of the 42 million uprooted people, 15.2 million were refugees, 26 million were internally displaced people and 827,000 were asylum seekers.
Developing nations hosted four-fifths of refugees.
Women and girls represented 47 percent of refugees and asylum seekers, half of all internally displaced people and refugee returnees.
People below age 18 represented 44 percent of refugees and asylum seekers.
Pakistan hosted the largest number of refugees in the world at 1.8 million, followed by Syria at 1.1 million and Iran at 980,000.
Afghan and Iraqi refugees made up almost half of all refugees worldwide.
One out of four refugees were from Afghanistan at 2.8 million and were in 69 asylum countries. Iraqis are the second largest group with 1.9 million "having sought refuge mainly in neighboring countries."
Colombia harbored one of the world's largest internally displaced populations, with an estimated 3 million people there.
In Iraq, there were around 2.6 million internally displaced at the end of 2008, and 1.4 million had been uprooted over the past three years.
More than 2 million internally displaced people were in Sudan's Darfur region.
"Renewed armed conflict in the eastern Democratic Republic of the Congo and in Somalia last year brought total displacement in each to 1.5 million and 1.3 million respectively."
South Africa has emerged as the "largest recipient of individual applications in the world." There were more than 207,000 asylum claims there, about one-quarter of applications worldwide. More than half of the claims were from Zimbabweans.
E-mail to a friend