(CNN) -- Family members of two U.S. journalists imprisoned in North Korea said they are worried about the women's well-being and are pleading for their release.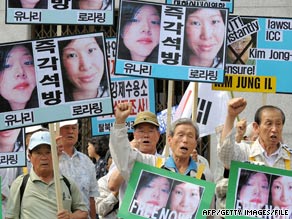 Supporters rally for U.S. journalists Euna Lee and Laura Ling on June 4 in Seoul, South Korea.
Laura Ling and Euna Lee were sentenced this month to 12 years in prison on charges of spying.
"We are particularly concerned about their mental state," Ling's sister, journalist Lisa Ling, said Tuesday during a exclusive interview on Anderson Cooper's show, "AC 360." "I'm sure they are just traumatized, because we haven't heard anything from them."
The two, who are reporters for California-based Current TV -- a media venture of former U.S. Vice President Al Gore -- were arrested while reporting on the border between North Korea and China.

Watch family members plead for women »
The North's state media released a "detailed report" Tuesday, saying that Ling and Lee entered the country illegally to record material for a "smear campaign" against the reclusive communist state.
Lisa Ling said Tuesday that she was pleased that North Korea had released the report, because it offered the first details she'd heard since the women's sentences were issued.
"As we've said before, when they left U.S. soil, they never intended to cross into North Korea," said Ling, a special correspondent for CNN. "We know they're very sorry. We are very sorry. And we hope that the North Korean government will show compassion and just let them come home."
Don't Miss
The husbands of both women said it has been very difficult being without their wives.

"These three months have been the worst three months of my life," said Iain Clayton, Laura Ling's husband. "The idea I would have to endure this for another 12 years is unbearable."
Secretary of State Hillary Clinton has said the United States is seeking the immediate release of the two journalists on humanitarian grounds.
E-mail to a friend

All About North Korea • Al Gore • South Korea