From Barbara Starr
CNN





KABUL, Afghanistan (CNN) -- An American soldier captured in southeastern Afghanistan is being held by a notorious militant clan, a senior U.S. military official said.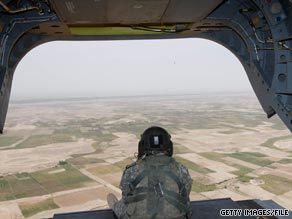 A soldier mans a weapon at the rear of a U.S. Army helicopter over Afghanistan in May.
The American and three Afghan soldiers were captured by low-level militants and then quickly "sold" to the clan led by warlord Siraj Haqqani -- believed to be deeply involved in the action.
The Haqqanis operate on both sides of the Afghanistan-Pakistan border and are well known to the U.S. military. They are assembling shuras, or local councils of leaders, to talk and try to "legitimize" what they have done, the official said.
U.S., Afghan and Pakistani troops are sealing off the area and also are talking to tribal chiefs, village elders and leaders.
They are telling them to "do the right thing and solve this," the official said.
The U.S. military is telling people not to let Haqqani operatives move through their area and to find the American and return him. The military wants to make sure there is "no shelter" for the militants holding him.
"We want to make sure there is no place to hide," the official said.
The Taliban had claimed responsibility for the capture of the four soldiers.
The U.S. soldier visited a military post in the Yousaf Khel district in the Paktika province and got drunk, Taliban commander Mulvi Sangeen said. He was ambushed while returning to his car and was taken to a safe place, Sangeen said.
CNN could not independently verify Sangeen's claims.
A source with the U.S. military denied the claim that the soldier was drunk.

"The Taliban are known for lying and what they are claiming are not true," the source said.
The soldier's family has been informed, the military said.
E-mail to a friend

CNN's Nic Robertson contributed to this report.
All About The Taliban • Afghanistan War