From Nic Robertson
CNN





ISLAMABAD, Pakistan (CNN) -- The Pakistani government's crackdown on the Taliban has helped U.S. security, U.S. Homeland Security Secretary Janet Napolitano said Friday.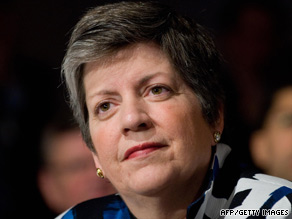 Janet Napolitano says that "anything that cracks down on the Taliban helps."
"The key concept is, you just can't start protecting the homeland at the borders of the United States," she said.
Napolitano said she was in Pakistan to discuss with Pakistani leaders the fight against terrorism, as well as how the two countries share information.
Asked what impact the Pakistani government's recent crackdown on the Taliban, centered in the Swat region of North West Frontier Province, has had on U.S. security, she said, "anything that cracks down on the Taliban helps. ..."
"Pakistan is a transnational route," she explained, noting that it is a route for drug and human trafficking that may end up in the United States.
"Anything that is being done to make Pakistan safe and secure ... also helps us in the United States."
Don't Miss
She said the U.S. has minimized the risk of those in Taliban training camps coming to the United States. However, she noted, "we can never totally eliminate that risk" because there are too many ways to enter the United States.
Napolitano said U.S. officials were working on several issues with Pakistani officials, including ways to monitor who is traveling from Pakistan to the United States, as well as the protection of Pakistan's own borders.
U.S. officials are using some of the techniques and expertise developed in the United States to help Pakistan, she said.
Asked whether Pakistani leaders had expressed concerns about the tactics the United States has used in trying to achieve its goals in Pakistan, she said they had not.
"There was no concern expressed," she said of her recent meeting with President Asif Ali Zardari.
"The connection between what happens here and how it looks around the world to the United States is very, very clear," she said.
E-mail to a friend

All About Janet Napolitano • Pakistan