BEIJING, China (CNN) -- Chinese President Hu Jintao cut short his trip to Italy for a key economic summit to deal with ethnic violence raking northwestern China, state-run media reported Wednesday.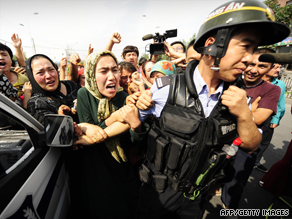 Ethnic Uyghur women grab the arm of a policeman as they protest in Urumqi on July 7.
Hu returned to Beijing on Wednesday and will be replaced by another Chinese official at the Group of Eight summit of the world's most powerful economies, Xinhua news agency reported.
Heavily armed troops remain on the streets of Urumqi, the capital of China's far-west Xinjiang region, where violent demonstrations on Sunday left at least 156 people dead and more than 1,000 injured, according to government figures.
More than 1,400 suspects had been detained by Tuesday morning, according to Xinhua.
The main instigators in Sunday's rioting "should be punished with the utmost severity" while others who were "provoked" to take part "should be given persuasion and education,"China's chief police officer, Meng Jianzhu, said Wednesday, according to Xinhua.
Curfews remain in force across Urumqi and access to the Internet remains blocked.
CNN's Jaime FlorCruz, who is in the regional capital, said several small protests erupted in Urumqi despite the heavy police presence, but were quickly defused. He described the situation as "fluid."

Watch how tensions remain high in Xinjiang »
The violence is a result of ethnic tensions between the Uyghurs, who are predominantly Muslim, and members of China's Han majority. Hundreds of Han Chinese were on the streets of Urumqi on Tuesday, holding sticks and pipes and calling for severe punishment of the Uyghurs, who they say committed serious crimes.
The Uyghurs say they have been victimized and many of those killed in the violence Sunday were Uyghurs. Uyghur religious leaders have condemned the violence, saying it is against the spirit of the Muslim faith and Uyghur tradition.
There is speculation that Sunday's protest, which took place in the predominantly Uyghur-populated Bazaar district, may have been a reaction to ethnic violence in southern China. See a map of Xinjiang

That violence took place late last month at a toy factory in Guangdong province, where many migrants, including Uyghurs, have moved in search of work. A massive brawl reportedly broke out between workers of Uyghur and Han nationalities. Two Uyghurs reportedly died.
Police have detained 15 suspects in connection with that incident, state-run media reported Tuesday.
E-mail to a friend

All About Hu Jintao • China • Xinjiang Uygur Autonomous Region