(CNN) -- It is possible more U.S. troops could be added in Afghanistan if the new U.S. commander there needs them, but Defense Secretary Robert Gates said he does not expect a significant increase.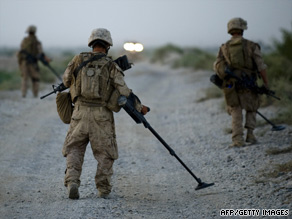 U.S. Marines sweep for bombs in Afghanistan this week.
During a visit to troops at Fort Drum, New York, on Thursday, Gates said he is waiting to hear what Gen. Stanley McChrystal recommends after he completes a review of operations in Afghanistan.
McChrystal is expected to complete a classified report for Gates by the end of this month, assessing where the war stands, and what needs to be done.
He will tell Gates whether he needs more U.S. troops to fight the escalating conflict, according to a senior U.S. military official.
Gates asked McChrystal to "state his requirements for resources," said the official -- who did not want to be identified because the report is not completed.
The review is also expected to recommend that the number of Afghan troops be increased beyond the goal of 134,000, other military sources said.
During a speech and question-and-answer session with troops at Fort Drum, Gates acknowledged he would consider a recommendation to boost U.S. troops beyond the level of 68,000 already approved.
"We'll see what Gen. McChrystal recommends," he said. "But I think there will not be a significant increase in troop levels in Afghanistan beyond the 68,000, at least probably through the end of the year. Maybe some increase, but not a lot."
Gates has made clear in the past he is reluctant to approve additional major increases in troop levels, preferring to keep the U.S. at a lower profile in the nation.
About 57,000 U.S. troops are in Afghanistan, with the other 11,000 to arrive by the end of this year. Gates has said he wants to see if that level of troops would be sufficient.
Gates' press secretary, Geoff Morrell, told CNN the Fort Drum comments "are not necessarily a foreshadowing of what's to come."
He said Gates "doesn't want to impose an artificial troop cap on the commander," but does want to see if the strategy can be carried out with the approved troop levels.
E-mail to a friend