(CNN) -- Four suspects accused of planning to carry out a terrorist attack on a military base in Australia were arrested in early morning busts across Melbourne on Tuesday, authorities said.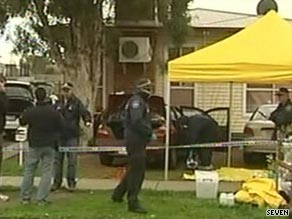 Some 400 federal police officers took part in the pre-dawn raids in Melbourne.
Police executed 19 search warrants in nine Melbourne neighborhoods as part of the investigation into the group, which is suspected of having ties to Al-Shabaab, a Somali insurgent group with ties to al Qaeda, authorities said.
The suspects planned to storm the Australian base with automatic weapons and carry out a "sustained attack on military personnel until they themselves were killed," said Tony Negus, deputy commissioner of the Australian Federal Police.
Details about the suspects began to emerge Tuesday afternoon, with police confirming that a 25-year-old man from Glenroy was charged with conspiring to plan a terrorist act. He was expected to appear in court later in the day, authorities said.
A fifth man, a 33-year-old already in custody on other matters, was being interviewed, police said.
Some 400 officers took part in the pre-dawn raids, foiling the alleged terror plot, police said. Investigators have been looking into the group for more than six months, officials said.
If the alleged plot had been successful, it would have been "the most serious terrorist attack on Australian soil," Negus said.

Watch what's known about the group »
He said additional interviews and searches will be conducted as the investigation continues. He said while the suspects of the Melbourne-based group are Australian nationals, some are of Lebanese and Somalian descent.
Somalia is engaged in a civil war between its unstable transitional government and Al-Shabaab, one of the strongest Islamic militias battling for control of Mogadishu. Al-Shabaab remains entrenched in northeast Somalia and in sections south of the capital.

The fighting has uprooted more than 200,000 people since early May, according to the United Nations.
The Somali militia, which is designated as terrorist organization by the U.S. State Department, has recruited young fighters from all around the world, including the United States.
E-mail to a friend