BANGKOK, Thailand (CNN) -- A Bangkok Airways plane crashed at an airport at a resort island in Thailand, killing the pilot and injuring 37 people Tuesday, aviation officials said.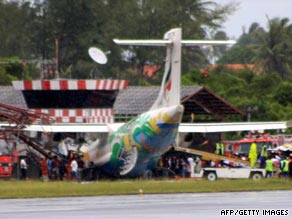 Rescue workers inspect the Bangkok Airways plane at Samui airport on Thailand's Ko Samui.
The plane carrying 68 people and four crew members skidded and then crashed after landing at Koh Samui airport, officials with the civil aviation department said.
The ATR-72 turboprop had taken off from the town of Krabi on the west coast Thailand for its trip to the resort island of Koh Samui.
Air traffic control warned the pilot of volatile winds before the plane landed, aviation officials said.
Seven people were seriously injured and emergency officials were working to free the plane's co-pilot who was trapped in the plane, officials said.
E-mail to a friend

CNN's Dan Rivers contributed to this report.