YANGON, Myanmar (CNN) -- John William Yettaw, the American facing charges in Myanmar for visiting the compound of pro-democracy leader Aung San Suu Kyi, has been admitted to hospital after suffering convulsions.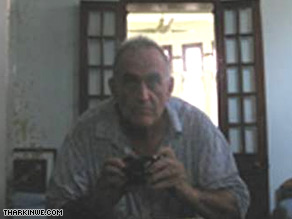 American John Yettaw reportedly said God told him to go to Suu Kyi's house to protect her.
Yettaw, 53, was admitted Monday night to Yangon General Hospital, according to staff.
Myanmar's ruling junta accused Yettaw of trespassing and violating immigration laws after a May 3 incident in which he allegedly swam across a lake and stayed at Suu Kyi's home for two days, violating the terms of her house arrest. The Myanmar government rarely allows Suu Kyi visitors.
The charges carry up to five years in prison. A lawyer selected by the U.S. Embassy is representing him.
Yettaw, a former military serviceman from Falcon, Missouri, testified repeatedly that God had sent him to Myanmar to protect Suu Kyi because he dreamed that a terrorist group would assassinate her.
Suu Kyi, 64, a Nobel Peace Prize laureate, has also been on trial for breaching the terms of her house arrest. The verdict, which was supposed to have been announced last week, has been delayed until August 11.

Watch details of what went on in the courtroom »
If convicted, she could face up to five years in prison.
Don't Miss
The reason for the delay was not immediately clear, but the new date falls immediately after an important anniversary.
Opposition activists mark the anniversary every year of the August 8, 1988, national uprising for democracy, also dubbed "8888." A subsequent military coup quashed the demonstrations, during which Suu Kyi emerged as the face of democracy in Myanmar.
Also on trial are two of her house companions, who are charged with cooperating to break the conditions of her house arrest and face a maximum sentence of five years in prison. The mother and daughter pair are members of Suu Kyi's party, the National League for Democracy.
Suu Kyi said she doesn't know Yettaw, didn't know of his plans and denies any wrongdoing. She is charged with subversion.
Suu Kyi, the iconic face of democracy in Myanmar, was placed under house arrest in 1989.
The next year, the National League for Democracy won more than 80 percent of the legislative seats in the first free elections in the country in nearly 30 years.

But Myanmar's military junta disqualified Suu Kyi from serving because of her house arrest and annulled the election results.
Her supporters say Suu Kyi's latest arrest is meant to keep her confined so she cannot participate in the general elections that the junta has scheduled for next year.
E-mail to a friend

All About Myanmar • Aung San Suu Kyi