KABUL, Afghanistan (CNN) -- New NATO Secretary General Anders Fogh Rasmussen arrived in Afghanistan on Wednesday for meetings with military and political leaders and troops on the ground just days after taking over the alliance's top post.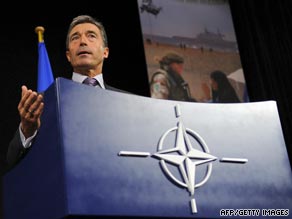 Rasmussen took over as head of the NATO alliance on August 1.
The former Danish prime minister, who assumed office Saturday, reiterated earlier comments that success in the alliance's near-eight-year campaign against Taliban militants in Afghanistan was NATO's top priority.
"We will stay and support you as long as it takes to finish our job and ensure a prosperous, peaceful Afghanistan," Rasmussen said after meeting Afghan President Hamid Karzai.
Rasmussen said that while NATO's International Security Assisstance Force would help safeguard a presidential election later this month, Afghanistan must become responsible for its own security.
"NATO is here to protect your elections," Rasmussen said. "What we need are credible elections that will reflect the will of the people."
He said NATO has decided to establish a training mission for the Afghan army and police so they can manage security throughout the provinces.
The Independent Election Commission of Afghanistan has deemed about 700 of 7,000 polling stations not safe enough for voters.
Rasmussen also pledged to cut civilian casualties caused by NATO airstrikes "to an absolute minimum. The United Nations last month said NATO was to blame for 30 percent of 1,000 civilian deaths in the first six months of 2009.
Earlier, Rasmussen met with Gen. Stanley McChrystal, the top U.S. military official on the ground who has been tapped to conduct a 60-day assessment of the U.S. mission in the country.
Rasmussen said Monday that the NATO-led International Security Assistance Force (ISAF) in Afghanistan would remain in the country "for as long as it takes."
Don't Miss
But, he added, the people of Afghanistan must take "lead responsibility" for its own security over his five-year term.
NATO's forces in Afghanistan have taken a battering in recent months, suffering heavy casualties as they attempt to dislodge Taliban fighters from areas of the country where they hold sway.
At least nine NATO troops died in Afghanistan over the weekend, following 75 deaths in July.
E-mail to a friend

CNN's Ivan Watson contributed to this report.
All About Afghanistan • NATO