(CNN) -- Former Philippine President Corazon Aquino was remembered as an icon of democracy at a solemn funeral mass on Wednesday, the country's official news agency reported.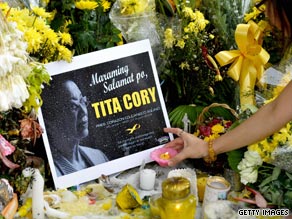 Filipinos light candles outside the home of Corazon 'Cory' Aquino in suburban Quezon city.
Aquino, the former housewife propelled to the head of a "People Power" movement that pushed out longtime strongman Ferdinand Marcos after her husband's assassination, died on August 1 at the age of 76.
Current President Gloria Macapagal-Arroyo made a brief visit to the cathedral after returning from a trip to the United States, the Philippines News Agency reported.
Other dignitaries and members of government attended the ceremony held at a hall in the president's palace.
Aquino was remembered as a religious women who pushed the country's democratic process forward.
"(Aquino) had a deep faith in God," Friar Cielito Almaz told the news agency. "And it is through faith and prayer that she retained office while president and in the last days of her disease."
Aquino, the first woman to lead the Philippines, had been battling colon cancer since March 2008 and died of cardio-respiratory arrest.
Don't Miss
She had not been involved in politics before her husband, opposition leader Benigno "Ninoy" Aquino Jr. was gunned down at Manila's airport in August 1983 as he returned from exile.
The political novice took over the leadership of her husband's movement after his death and challenged Marcos in a 1986 election, making a yellow dress her trademark and bolstered by the support of the country's Roman Catholic churches.
Marcos had been backed by the United States, the former colonial power in the Philippines, for two decades as a stalwart anti-communist. He and his wife Imelda were friends of then-President Ronald Reagan and his wife, Nancy.
But widespread allegations of electoral fraud and a mutiny by the country's military led the Reagan administration to withdraw its support, and Marcos went into exile in Hawaii.
Aquino took office in a country with a $28 billion debt, widespread poverty and a persistent Marxist insurgency. She put in place a U.S.-style constitution that limited presidents to a single six-year term and survived seven coup attempts -- including one that was suppressed with American help.
E-mail to a friend

All About Philippines