WASHINGTON (CNN) -- Pakistani Taliban leader Baitullah Mehsud may have been killed in a U.S. drone attack, a U.S. official said Friday.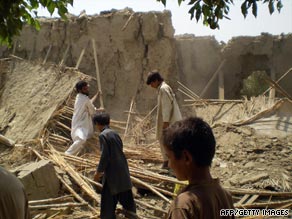 Villagers gather at the rubble of houses belonging to supporters of Pakistani Taliban chief Baitullah Mehsud.
"There's reason to believe Mehsud may be dead, but there's no confirmation at this time," the official said.
Information from the region suggests Mehsud is dead, according to Rehman Malik, Pakistan's interior minister, who said DNA evidence is still needed for confirmation.
The Taliban has yet to confirm or deny reports of the leader's death.
Mehsud's second wife was one of two people killed early Wednesday in a suspected U.S. drone attack, according to intelligence sources and relatives. Four others were wounded, they said.
The unmanned aerial vehicle targeted the home of Mehsud's father-in-law, Mulvi Ikram ud Din, and dropped two missiles on the residence in northwestern Pakistan, an intelligence official said.
Muhammad Jamal, a Taliban member in the area, said the attack caused injuries to children and women.
The U.S. military routinely offers no comment on reported drone attacks.
However, the United States is the only country operating in the region known to have the ability to launch missiles from drones, which are controlled remotely.
Mehsud and other key leaders of the Pakistani Taliban have been targeted by the ongoing Pakistani military operation in northwest Pakistan. Hideouts linked to Mehsud are regularly shelled by both Pakistani aircraft and suspected U.S. drones.
The drone strike targeting him represents two larger patterns, said CNN national security analyst Peter Bergen. "The first is that the Obama administration has ramped up the drone program aimed at militants based inside Pakistan beyond the policy it inherited from the Bush administration," he said.
"The second pattern is that the Obama administration has increasingly been working with the Pakistani government to attack the Pakistani Taliban. Of the 30 strikes this year, 19 have targeted Mehsud's home base of South Waziristan."
Mehsud's close aide recently confirmed that the Pakistani Taliban chief was behind the assassination of former Pakistani Prime Minister Benazir Bhutto, who was gunned down at a political rally in December 2007. Bhutto's widower, Asif Ali Zardari, is the president of Pakistan.
The Pakistani government and CIA officials have said in the past that Mehsud was responsible for Bhutto's death.
E-mail to a friend

Journalist Janullah Hashimzada contributed to this report.
All About Taliban Movement of Pakistan • Pakistan • Benazir Bhutto