By Emily Chang
CNN





BEIJING, China (CNN) -- Although infertility treatment is becoming more and more popular in China, finding a Chinese couple who wanted to talk about it on camera was nearly impossible.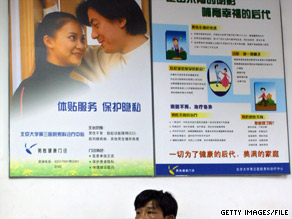 A man sits beneath fertility advertising in Beijing in 2005.
We contacted multiple couples through hospitals, doctors, blogs, word-of-mouth and friends -- but nobody wanted to talk to us. Even parents with happy, healthy babies politely declined.
Infertility is still an incredibly private subject in China, in part due to a stigma of being a childless couple. Once couples marry, there is extreme cultural pressure to have a child from both family and friends.
If there is no baby after a couple of years of marriage, the blame usually falls on the woman. Husbands may divorce their wives within two to three years. This is even more common in China's rural villages, where a child is expected and needed to take care of the family later in life.
"If there's no children, that's one of the most common reasons to get divorced in China," said Dr. Jia-En Liu, the founder of a private fertility hospital in Beijing.
After days of searching, many calls and many "no thank yous," we finally found a couple who was willing to share their story with us.
Following 13 years of marriage and two miscarriages, 40-year-old Hongwu and 38-year-old Ling conceived, thanks to in vitro fertilization. It took one successful treatment, and they were blessed with twin boys, Ganggang and Yangyang.

Watch Chang's report on the fertility boom in China »
Don't Miss
"My parents, their grandparents, were so excited," said Ling, the boys' mother. "We didn't have children for so many years. This is their biggest wish come true." What's your view on infertility treatment in China?
Despite their newfound joys, the couple decided at the last minute that they did not want to reveal their own faces in our report.
While they were happy to tell us their story and show off portraits of the boys, they opted to hide their own identity to "protect" their family, their community and their children.
"(For so many years) our colleagues, our classmates, all of them already had a child, so we had less in common to talk about," said Hongwu. "When they would talk about their children, and we didn't have one, we felt more pressure."
"There is a saying in China, that among the three irresponsible doings of a son, childlessness ranks first," he added.
But thanks to Western medicine, they were spared a degree of what one might call social humiliation. Even though they don't want their friends and family to recognize them on television, they do want to get their message out to other Chinese couples experiencing fertility challenges.
Many aspiring parents in China still resort to traditional Chinese medicine first, before pursuing Western treatment. Some may not even know the technology exists.
For Hongwu and Ling, it has been a dream come true, with not just one but two healthy young boys. (Parents who have multiple births are exempt from China's one-child policy.)
By the end of our interview they were holding hands, gazing at each other, and reminiscing about the many challenges they ultimately overcame together.

"We established a firm relationship over the last several years," Ling said. "We understand each other, and we've become stronger spiritually."
As for their boys, she said: "We feel so lucky to have not just one, but two kids. When they smile, walk, talk and call me mommy, I am so happy, even just watching them sleep."
E-mail to a friend

All About Infertility • In Vitro Fertilization • Pregnancy and Childbirth