YANGON, Myanmar (CNN) -- The White House criticized the sentencing of Myanmar's opposition leader Aung San Suu Kyi to 18 more months of house arrest Tuesday, joining a chorus of condemnation from figures ranging from the Dalai Lama to the U.N. secretary-general.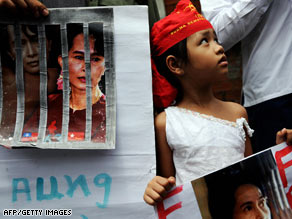 A young girl holds a portrait of Aung San Suu Kyi at a rally in Bangkok, Thailand, on Tuesday.
"This is not somebody that should be tried and not somebody certainly that should have been convicted," White House spokesman Robert Gibbs said, adding that President Barack Obama was likely to make a statement later.
British Prime Minister Gordon Brown said he was "saddened and angry at the verdict... following the sham trial of Aung San Suu Kyi."
"The U.N. Security Council -- whose will has been flouted -- must also now respond resolutely and impose a world wide ban on the sale of arms to the regime," he said, calling the verdict a "purely political sentence designed to prevent her from taking part in the regime's planned elections next year."
A military court found Suu Kyi guilty earlier on Tuesday of violating the terms of her house arrest.
The court initially sentenced Suu Kyi to three years in prison, but the head of the country's ruling junta commuted it to a year and a half of house arrest.
"We continue to call for her release from continuing house arrest," U.S. Secretary of State Hillary Clinton said on a diplomatic trip to Africa.
"We also call for the release of more than 2,000 political prisoners, including the American John Yettaw," who swam, uninvited, across a lake to Suu Kyi's residence earlier this year, prompting the charge she had violated her house arrest.
The Dalai Lama, Archbishop Desmond Tutu and former Soviet leader Mikhail Gorbachev were among a group of Nobel laureates who also condemned the verdict.
They demanded that the U.N. Security Council investigate "war crimes and crimes against humanity" committed by the military junta that rules the country, which is also called Burma.
Don't Miss
"This illegal verdict is just one more instance of the junta's contempt for justice, security and democracy for the Burmese people," said Nobel Laureate Jody Williams.
The United Nations issued a statement saying U.N. Secretary-General Ban Ki-moon "strongly deplores this decision" and calls for the immediate and unconditional release of Suu Kyi and "all other political prisoners."
In many ways, the court's decision is a continuation of Suu Kyi's current punishment.
The 64-year-old has spent 14 of the past 20 years in one form of confinement or another -- most recently under house arrest.
Yettaw, whom Suu Kyi said she did not know, was sentenced to seven years of hard labor. He was convicted of violating immigration laws, municipal laws and the house arrest terms.

Watch analysis on Myanmar's political situation »
Suu Kyi's supporters said the trial was meant to keep her confined so she cannot participate in next year's general elections.
An exact date for the elections has not been set. It is, therefore, unclear whether the Tuesday ruling to extend Suu Kyi's house arrest will prevent her from campaigning.
The Myanmar government claims it was considering releasing Suu Kyi at the end of her latest home confinement term -- and that it had no choice but to try her after she met with Yettaw.
The 1991 Nobel laureate has been the face of Myanmar's pro-democracy movement for decades.

She was put under house arrest in 1989. The following year, her National League for Democracy party won more than 80 percent of the legislative seats in the first free elections in the country in nearly 30 years.
But the military junta disqualified Suu Kyi from serving because of her house arrest, refused to step down and annulled the results.
E-mail to a friend

All About Myanmar • Aung San Suu Kyi • Human Rights Policy • Criminal Sentencing and Punishment