YANGON, Myanmar (CNN) -- Myanmar opposition leader Aung San Suu Kyi was found guilty of violating the terms of her house arrest by a military court Tuesday -- and sentenced to serve 18 more months in home confinement.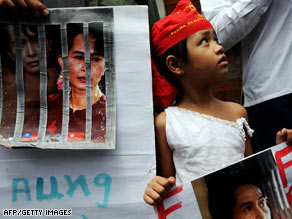 A young girl holds a portrait of Aung San Suu Kyi at a rally in Bangkok, Thailand, on Tuesday.
The court initially sentenced Suu Kyi to three years in prison before the head of the country's ruling junta commuted it to a year-and-a-half of house arrest.
The Nobel Peace Prize laureate faced a maximum sentence of five years in prison.
U.S. Secretary of State Hillary Clinton has blasted the verdict.
"She should not have been tried and she should not have been convicted," Clinton said on a diplomatic trip to Africa.
"We continue to call for her release from continuing house arrest. We also call for the release of more than 2,000 political prisoners, including the American John Yettaw," she added.
Yettaw swam across a lake to Suu Kyi's residence earlier this year, prompting the charge she had violated her house arrest.
"The Burmese junta should immediately end its repression of so many in this country, start a dialogue with the opposition and the ethnic groups. Otherwise the elections they have scheduled for next year will have absolutely no legitimacy," Clinton said, using the traditional name for the country.
The Dalai Lama, Archbishop Desmond Tutu and former Soviet leader Mikhail Gorbachev were among a group of Nobel laureates who also slammed the verdict.
They demanded that the U.N. Security Council investigate "war crimes and crimes against humanity" committed by the military junta that rules the country.
"This illegal verdict is just one more instance of the junta's contempt for justice, security, and democracy for the Burmese people," said Nobel Laureate Jody Williams.
The United Nations issued a statement saying U.N. Secretary-General Ban Ki-moon: "strongly deplores this decision" and calls for the immediate and unconditional release of Suu Kyi and "all other political prisoners."
The order from Senior Gen. Than Shwe commuting Suu Kyi's sentence said the government was doing so for three reasons:
Suu Kyi is the daughter of Gen. Aung San, who played an instrumental role in bringing about the country's independence from British colonial rule. He was assassinated in 1947 and is still revered in the country.
The junta said it did not want to create instability as it prepares to hold democratic elections next year.
And leaders of the ruling military regime did not want to create further division among citizens, the order said.
Suu Kyi will be allowed to meet with government-approved guests and have access to television and newspapers, the order said.
She will not be allowed to leave the home, however. It was unclear where the home would be.
If the opposition leader follows the terms, she might be released before the 18 months end, the order said.
Don't Miss
In many ways, the court's decision is a continuation of Suu Kyi's current punishment.
The 64-year-old Nobel Peace Prize winner has spent 14 of the past 20 years in one form of confinement or another -- most recently under house arrest in a crumbling, colonial-era lakeside home.
An American, John William Yettaw, who swam two miles to her home on May 3 and prompted the case, was sentenced to seven years of hard labor. He was convicted of violating immigration laws, municipal laws and the house arrest terms.
Suu Kyi's lawyers have 60 days to appeal the conviction to a higher court. It was not immediately known whether they planned to do so.
Also on trial were a mother and daughter who serve as Suu Kyi's companions in her heavily guarded residence -- and are members of the National League for Democracy. They also were convicted of violating the house arrest terms and were sentenced to 18 months of house arrest, to be served with Suu Kyi.
The ruling was widely expected by the international community, which had criticized the trial since it began at a prison compound near Yangon on May 18.
Defense lawyers had three days to prepare and were not allowed to meet with Suu Kyi alone, said Jared Genser, her U.S.-based lawyer.
They were allowed to call two witnesses, compared with the more than a dozen that the prosecution was allowed.
Suu Kyi's supporters said the trial was meant to keep her confined so she cannot participate in the general elections that the junta has scheduled for next year.
An exact date for the elections has not been set. It is, therefore, unclear whether the Tuesday ruling to extend Suu Kyi's house arrest will prevent her from campaigning.
"The outcome of this trial has never been in doubt," Genser said. "The real question is how the international community will react. Will it do more than simply condemn this latest injustice?"

Watch analysis on Myanmar's political situation »
The case stems from an incident in which Yettaw -- a 53-year-old former military serviceman from Falcon, Missouri -- swam across a lake to Suu Kyi's home and stayed for two days.
The government said Yettaw's presence in the home violated Suu Kyi's house arrest.
The country's regime rarely allows Suu Kyi visitors, and foreigners are not allowed overnight stays in local households without government permission.
Suu Kyi said she doesn't know Yettaw, didn't know of his plans and denies she had any wrongdoing.
She told the court she did not report the intrusion because she didn't want Yettaw or anyone else to get in trouble.
Yettaw testified repeatedly that God had sent him to Myanmar to protect Suu Kyi because he dreamed that a terrorist group would assassinate her.
He also said he had tried and failed to enter her house once before. Police found him, questioned him and then released him, he said.
Suu Kyi's lawyers tried to turn the case on its head by arguing that the government had failed to protect her.
The Myanmar government claims it was considering releasing Suu Kyi at the end of her latest home confinement term -- and that it had no choice but to try her after she met with Yettaw.
The 1991 Nobel laureate has been the face of Myanmar's pro-democracy movement for decades.
She was put under house arrest in 1989. The following year, her National League for Democracy party won more than 80 percent of the legislative seats in the first free elections in the country in nearly 30 years.

But the military junta disqualified Suu Kyi from serving because of her house arrest, refused to step down and annulled the results.
The government has said next year's scheduled elections will reintroduce democracy in Myanmar. But its plan forbids citizens who bore children with foreigners from running for office. That makes Suu Kyi ineligible. She married a British man and has two sons with him.
E-mail to a friend

All About Myanmar • Aung San Suu Kyi • Human Rights Policy • Criminal Sentencing and Punishment