ISLAMABAD, Pakistan (CNN) -- Pakistan's Taliban chief Baitullah Mehsud is alive, the group's spokesman told CNN on Tuesday -- disputing the Obama administration's contention that he was killed by a CIA missile strike.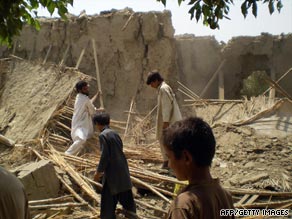 Villagers gather at the rubble of houses belonging to supporters of Pakistani Taliban chief Baitullah Mehsud.
Spokesman Maulvi Umar said Mehsud is ill, but safe at an undisclosed location. Once Mehsud is better, he will speak to reporters, Umar said.
A day earlier, a senior U.S. official told CNN that the government was convinced Mehsud was dead based on various indicators at the scene of Wednesday night's attack.
It was an extremely warm night and a short, stocky man meeting Mehsud's description sought refuge from the heat on the roof of the home of Mehsud's father-in-law, according to the official.
Then, the man in question began having his legs massaged on the roof of the home, which indicated to intelligence officials that it was Mehsud, because his legs ached from diabetes and he frequently sought relief.
At that point, according to the senior U.S. official, the CIA moved ahead with the strike, acting on a pre-approved order from the president to attack when U.S. intelligence officials thought they had Mehsud in their sights.
Umar, the Pakistan Taliban spokesman, told CNN that Mehsud does suffer from diabetes and that a drone attack had taken place at his father-in-law's house.
Don't Miss
Unlike U.S. officials, Pakistan's foreign and interior ministers have said the government was waiting to conduct DNA analysis to confirm the identity of a man likely killed in the airstrike.
Umar also disputed the government's contention that Mehsud's deputies Hakeemullah Mehsud and Wali ur Rehman Mehsud were dead.
Interior Minister Rehman Malik told CNN on Saturday that one of the two men -- thought to be potential successors -- died in a shootout at a meeting of senior Taliban leaders in south Waziristan.
Umar accused the government of spreading propaganda. "The government is playing a game and trying to trick Baitullah into coming out of hiding by using this propaganda so they can kill him," he said.
In recent weeks, there has been a dramatic escalation in the number of unmanned drones the CIA is using for missile strikes in the rugged south Waziristan tribal region where Mehsud was reported killed.
On Tuesday, 10 Taliban militants were killed and three others wounded in a suspected drone strike that targeted a house thought to belong to Mehsud, a Pakistani intelligence official said.
The attack took place in South Waziristan, which is part of Pakistan's tribal region, the Federally Administered Tribal Areas (FATA). The region has seen a sharp spike in the number of aerial attacks carried out by suspected unmanned U.S. drones on what are believed to be Taliban targets.
An intelligence official said an unmanned aircraft fired two missiles at a militant camp in the mountain town of Kanniguram.
Another Pakistani official said the target was a house used by militants, belonging to Pakistan's Taliban chief Baitullah Mehsud.
Pakistani and U.S. officials believe Mehsud was likely killed by a CIA missile strike last week. The Taliban denied it Tuesday.

The United States routinely offers no comment on reported cross-border strikes from Afghanistan. However, the United States is the only country operating in the region known to have the capability to launch missiles from drones, which are controlled remotely.
Pakistan has complained the attacks have claimed hundreds of civilian lives.
E-mail to a friend

Journalists Nazar ul Islam in Islamabad and Janullah Hashimzada in Peshawar, and CNN's Ed Henry in Washington, contributed to this report.