KABUL, Afghanistan (CNN) -- Hundreds of U.S. Marines and Afghan soldiers have moved into southern Afghanistan to protect citizens during upcoming elections, military officials said.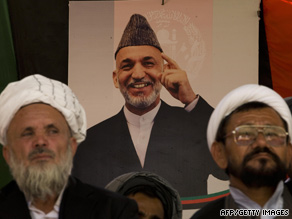 Supporters of Afghan President Hamid Karzai join in an election rally Wednesday in Kabul.
Afghans will go to the polls on August 20 to vote in second presidential election since the fall of the Taliban regime in 2001. Provincial elections also will be held that day.
About 400 Marines and 100 Afghan soldiers moved to the Now Zad district in Helmand province Wednesday morning, a U.S. military statement said.
"Our mission is to support the Independent Election Commission and Afghan national security forces. They are the ones in charge of these elections. Our job is to make sure they have the security to do their job," said Brig. Gen. Larry Nicholson, commanding general of the Marine Expeditionary Brigade in Afghanistan.
"While we encourage every Afghan to exercise his right to vote, who he or she votes for is none of our business."
The area in which the operation was launched has been known to be a Taliban stronghold, and American, British and Afghan forces have been involved in fierce battles with Taliban militants there in recent weeks.
In other developments in Afghanistan, a police chief was killed Tuesday night during a gunbattle with Taliban fighters, officials said.
Noor Mohammad, chief police commander of a district in Kunduz province, was killed along with one of his bodyguards, said a spokesman for the provincial governor. Three police officers also were wounded.
The fighting lasted for hours until police forced insurgents to retreat, the spokesman said.
In addition, two journalists working for The Associated Press were wounded in a roadside blast in southern Afghanistan, the news agency reported Wednesday.
Photographer Emilio Morenatti and cameraman Andi Jatmiko were traveling with the U.S. military when a bomb hit their vehicle Tuesday, the AP said.
Afghanistan is the 11th-most dangerous country in the world for journalists, according to the New York-based Committee to Protect Journalists. Eighteen journalists have been killed there since 1992, including 16 since the war began in 2001.
E-mail to a friend

All About Afghanistan • The Taliban • Helmand Province