KABUL, Afghanistan (CNN) -- Elders and religious leaders in southern Afghanistan are in talks with local Taliban leaders in an effort to reach a truce ahead of next week's election, a top Afghan official told CNN on Friday.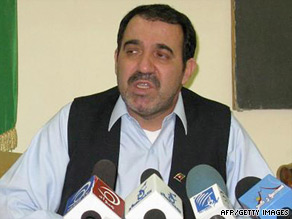 File image of Ahmad Wali Karzai, brother of President Hamid Karzai
Ahmad Wali Karzai, the brother of Afghanistan's President Hamid Karzai, denied a report in London's The Guardian newspaper that "a series of secret cease-fire deals" had been reached with Taliban commanders.
Wali Karzai said that the discussions are still ongoing and are taking part on a local level, not on a regional level.
Wali Karzai is the chief of the provincial national council in Kandahar, and is one of the most influential government officials in southern Afghanistan.
Afghans will go to the polls on August 20 to vote in the nation's second presidential election since the fall of the Taliban regime in 2001.
Provincial elections also will be held that day.
Hundreds of U.S. Marines and Afghan soldiers have moved into southern Afghanistan to protect citizens during next week's elections, military officials said.
Southern Afghanistan is a known Taliban stronghold and American, British and Afghan forces have been involved in fierce battles with Taliban militants there in recent weeks.
About 400 Marines and 100 Afghan soldiers moved to the Now Zad district in Afghanistan's Helmand province on Wednesday, a U.S. military statement said.
"Our mission is to support the Independent Election Commission and Afghan national security forces. They are the ones in charge of these elections. Our job is to make sure they have the security to do their job," said Brig. Gen. Larry Nicholson, commanding general of the Marine Expeditionary Brigade in Afghanistan.
"While we encourage every Afghan to exercise his right to vote, who he or she votes for is none of our business," Nicholson added.
Hamid Karzai, who has occupied the presidential palace since 2001, is from Kandahar province and enjoys political support there, particularly among his Popalzai tribe. His political opponents have blamed Karzai for not doing enough to stem the growth of the Taliban insurgency.
E-mail to a friend

CNN's Atia Abawi and Journalist Wahidullah Mayar in Kabul, Afghanistan contributed to this report.
All About Afghanistan