(CNN) -- An American sentenced to seven years hard labor in Myanmar after he sneaked into the home of detained democracy leader Aung San Suu Kyi, arrived in Thailand on Sunday with the U.S. senator who secured his release.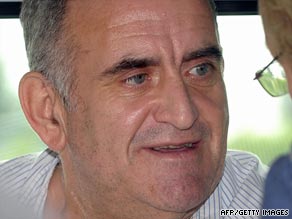 American John Yettaw smiles as he arrives at a military airport in Bangkok.
John William Yettaw was taken to hospital in Bangkok shortly after arriving aboard a military aircraft with Sen. Jim Webb.
"I believe what he did was regrettable. I believe it was hurtful to the person that he thought he was trying to help," Webb told reporters in Thailand.
"But at the same time, on humanitarian grounds, I feel fortunate that the government honored my request to allow him to come back here to Thailand with me.

Watch Webb detail Myanmar negotiations »
"I believe that this was a gesture from the government of Myanmar that we should be grateful for and hopefully build upon."
After arriving in Bangkok, Yettaw, a diabetic, was taken to a hospital for observation.
"He was not a well man. He had a medical emergency this morning when they read him his orders of deportation," Webb said, without elaborating.
Don't Miss
Yettaw, 53, a former military serviceman from Falcon, Missouri, was sentenced last week for a May 3 incident when he swam across a lake to the house of Suu Kyi and stayed, uninvited, for two days.
Myanmar's government said Yettaw's presence at Suu Kyi's compound violated the terms of the house arrest she was under at the time.
Yettaw testified in court that God had sent him to Myanmar to protect the opposition leader because he dreamed that a terrorist group would assassinate her.
He was convicted of violating immigration laws, municipal laws and Suu Kyi's house arrest terms.
Suu Kyi, who won the Nobel Peace Prize in 1991, told the court during her trial that she doesn't know Yettaw, did not know of his plans and denied any wrongdoing.
She said she did not report the intrusion because she did not want Yettaw or anyone else to get in trouble.
The court initially sentenced Suu Kyi to three years in prison for the incident. It was later commuted to a year-and-a-half of house arrest. A mother and daughter who serve as Suu Kyi's house companions -- and are members of the National League for Democracy -- also received the same sentence.
On Saturday, Webb -- who chairs the East Asia and Pacific Affairs Subcommittee of the Senate Foreign Relations Committee -- held separate meetings with Suu Kyi and Myanmar's top official, junta leader Senior Gen. Than Shwe.
Webb is the first member of Congress to visit Myanmar in more than a decade -- and the first American official to meet with Than Shwe.
In his meeting with the junta leader, Webb said he requested that Suu Kyi be released from her 18-month house arrest.
"I don't think Sen. Webb can be proud for the release of Mr. John Yettaw, while our leader Daw Aung San Suu Kyi, who is the real victim of this conspiracy and injustices, and two women colleagues are still under detention," said Aung Din, executive director of the Washington-based U.S. Campaign for Burma.

"This will surely make a negative impression among the people of Burma. They will think that Americans are easy to satisfy with the dictators when they get their citizens back."
Myanmar's military junta, which has ruled the country since 1962, changed the English translation of the country's name from Burma in 1989, but Suu Kyi's supporters and several governments still use the older name.
E-mail to a friend

All About Aung San Suu Kyi