SEOUL, South Korea (CNN) -- South Korea responded positively, but cautiously, to a joint agreement announced Monday between North Korea and the South's Hyundai Group to resume cross-border tourism, ease border controls and facilitate cross-border family reunions.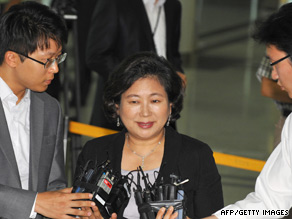 Hyundai Group Chairwoman Hyun Jeong-eun arrives at the customs office in Paju, South Korea, on August 10.
"The government views Hyundai Group's joint statement with North Korea in a positive way, but it is at the nongovernmental level," Unification Ministry spokesman Chun Hae-sung said. "For this agreement to be realized, the governments of South and North Korea need to reach a concrete agreement through dialogue."
A Hyundai subsidiary handles all tourism and business projects between the Koreas.
The announcement of the agreement followed a weekend meeting between North Korean leader Kim Jong-il and Hyundai chairwoman Hyun Jeong-eun.
Under the agreement, South Korean tourists would again be able to travel north across the border to Mt. Keumgang, a popular resort in the communist nation, North Korea's state-run KCNA reported.
Tours to Keumgang were halted in July 2008 after North Korean soldiers killed a South Korean tourist who strayed into a restricted area.
The deal would also include a resumption of tourism to the border city of Kaesong, and would "energize the operation" of the jointly run industrial complex there, KCNA said.
Pyongyang limited access to Kaesong in December as relations worsened between the nations.
North Korea also was to schedule an early October reunion for families across the peninsula who have been separated by the Korean War, KCNA reported.
Rapprochement talks between the two sides have hit a wall since conservative South Korean President Lee Myung-bak took office in early 2008 with a tougher stance toward the North than his liberal predecessor, Roh Moo-Hyun.
The two countries have technically remained in conflict since the Korean War ended in 1953, although relations have warmed somewhat in the past few years. The Korean conflict ended in a truce, but no formal peace treaty was ever signed.
E-mail to a friend

CNN's Roya Shadravan contributed to this report.
All About North Korea • South Korea