BANGKOK, Thailand (CNN) -- John Yettaw, the American convicted in Myanmar of illegally entering the country to visit pro-democracy leader and Nobel Peace laureate Aung San Suu Kyi, left Thailand Wednesday, authorities and government officials said.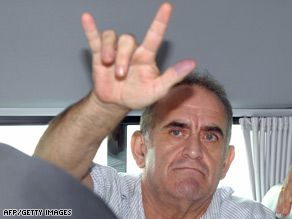 John Yettaw is shown this past weekend sitting inside a van at a military airport in Bangkok, Thailand.
Although the Thai Foreign Ministry and immigration police confirmed his exit from Bangkok, his destination was not immediately known.
Yettaw, a diabetic, had arrived to Thailand from Myanmar on Sunday aboard a military plane and then taken to a hospital for observation.
Yettaw, a 53-year-old former military serviceman from Falcon, Missouri, was sentenced last week for a May 3 incident when he swam, uninvited, to the house of Suu Kyi and stayed for two days.
U.S. Sen. Jim Webb obtained Yettaw's release on Saturday in Myanmar. There Webb met separately with both Suu Kyi and Myanmar's top official, junta leader Senior Gen. Than Shwe.
"He was not a well man," Webb said without elaborating about Yettaw. "He had a medical emergency this morning when they read him his orders of deportation."
Webb, who chairs the East Asia and Pacific affairs subcommittee of the Senate Foreign Relations Committee, was the first member of Congress to visit Myanmar in more than a decade. He also was the first U.S. official to meet with Than Shwe.
Yettaw's presence at Suu Kyi's compound violated the terms of the house arrest she was under at the time, Myanmar's government said. A military court found her guilty last week and commuted her three-year prison sentence to 18 more months of house arrest.
Her two house companions, who are members of Suu Kyi's National League for Democracy, received the same sentence.
Yettaw was sentenced to seven years of hard labor. He was convicted of violating immigration laws, municipal laws and the house arrest terms.
Yettaw testified in court that God had sent him to Myanmar to protect the opposition leader because he dreamed that a terrorist group would assassinate her.
Under the order from Than Shwe, Suu Kyi will be allowed to meet with government-approved guests and have access to television and newspapers. She will not be allowed to leave the home, however. It was unclear where the home would be.
In his meeting with the junta leader, Webb said he requested her release. "I raised the issue. I am hopeful that in the months moving forward, they will take a look at it," Webb told reporters in Bangkok.
The Association of Southeast Asian Nations, the economic and political bloc of Southeast Asian nations, might petition Myanmar to release Suu Kyi on the grounds of amnesty, Webb said.
That "would be a major step forward in resolving this situation," he added.
ASEAN has been reluctant in the past to address Suu Kyi's detention in Myanmar, one of its 10 member nations. But it has been under increased pressure to suspend Myanmar after Suu Kyi's conviction last week.
The Virginia Democrat said he will share his observations with U.S. President Barack Obama's administration, which has said it will review the current U.S. policy toward Myanmar.
The senator's intercession for Yettaw did not sit well with some exile groups.
"I don't think Sen. Webb can be proud for the release of Mr. John Yettaw, while our leader Daw Aung San Suu Kyi, who is the real victim of this conspiracy and injustices, and two women colleagues are still under detention," said Aung Din, executive director of the Washington-based U.S. Campaign for Burma.
"This will surely make a negative impression among the people of Burma. They will think that Americans are easy to satisfy with the dictators when they get their citizens back."
The military junta, which has ruled Myanmar since 1962, changed the English translation of the country's name from Burma in 1989, but Suu Kyi's supporters and several governments still use the older name.
In the trial, Suu Kyi's lawyers tried to turn the case on its head by arguing that the government had failed to protect her.
Suu Kyi, who won the Nobel Peace Prize in 1991, said she didn't know Yettaw or his plans and denied she had any wrongdoing.

She said she did not report the intrusion because she did not want Yettaw or anyone else to get in trouble.
Suu Kyi's supporters said the trial was meant to keep her confined so she cannot participate in the general elections that the junta has scheduled for next year.
E-mail to a friend

All About John Yettaw • Aung San Suu Kyi • Myanmar