By Eliott C. McLaughlin
CNN






(CNN) -- A high voter turnout in Thursday's presidential elections in Afghanistan could help marginalize the Taliban, experts said Wednesday.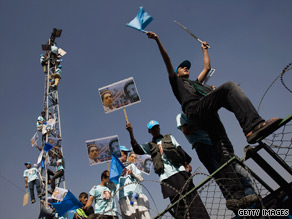 Supporters of Afghan presidential candidate Abdullah Abdullah campaign in Kabul, Afghanistan.
The militant Islamist group, which ruled Afghanistan from 1996 until the 2001 U.S.-led invasion, has threatened to violently derail the war-torn nation's second-ever presidential election. An estimated 17 million voters, about half the nation, are registered.
In the last week, two suicide car bombers killed 15 people in Kabul, a rocket landed on the presidential palace compound, wounding a staffer, and Afghan security forces killed three gunmen after storming a bank. The Taliban said the gunmen were potential suicide bombers and that there were 17 more in the capital.
If the Afghan people rise above the threats and attacks and turn out en masse to vote, the Taliban's ability to exact fear on the population will be diminished. In essence, a large voter turnout will be a vote of confidence in the democratic process, experts said.
But, warned J. Alexander Thier of the U.S. Institute of Peace, a nonpartisan, congressionally funded think tank, it's a two-way street.
"[Voters are] not going to be able to stand up to the Taliban and Taliban intimidation if they don't believe in the alternative," said Thier, who directs the institute's "Future of Afghanistan" project.
It's imperative the election is deemed legitimate, he said, because if the Afghan people think the election was rigged or predetermined, they will lose faith in an already weak and corrupt government.
"As we increase our military resources there, it will look like the U.S. is pouring in to prop up a leader not supported by his own people," Thier said.
A bogus election - whether real or perceived -- could exacerbate an already fragile political situation, another expert said.
"There's a concern that if they don't handle this election properly, there will be more violence because people are not trusting the legitimacy of the election," said Patricia DeGennaro, who has served as a consultant on policy development in President Hamid Karzai's office.
Daniel Markey, a senior fellow with the Council on Foreign Relations and former State Department staffer, said nothing would better suit the Taliban, which is trying to dissuade citizens from voting in an effort to discredit the entire process.
The group, which has resurged in recent years, also is attempting to show the international community that the war in Afghanistan is not winnable, Markey said.
Don't Miss
"The entire project in Afghanistan -- the reason we have tens of thousands of troops there -- is based on the idea that eventually we'll get a stable and effective government," he said. "If it's thoroughly discredited by the Taliban, if it leads to more instability, then the political side of the equation won't come together and the military side won't be enough to hold Afghanistan together."
The Taliban shouldn't be the sole scapegoat for Afghanistan's woes. In addition to U.S. and international mishandling of the situation in Afghanistan, the government of Karzai, who is running for re-election, is seen as corrupt and ineffective, Markey said.
Another problem is the people of Afghanistan, said Frank Anderson, president of the Middle East Policy Council and former chief of the CIA's Near East and South Asia division.
There are plenty of people in Afghanistan who want to see democracy and civil society prevail, but there are more people -- largely in the rural areas -- who have little faith in government, he said.
They want better lives but have far more confidence in family and tribal leaders, outside of whom, they believe, "there is no permanent friendship and no permanent enmity," Anderson said.
"There is a population that lacks the education and opportunities to even conceive what benefit they could get from a modern nation-state," said Anderson, who headed the CIA's Afghan task force in the late 1980s. "They've always been able to prevent a modernizing state force from extending its writ into the countryside."
Perhaps demonstrating the point is that polls indicate votes are going to fall largely along ethnic lines.
Karzai is a Pashtun, Afghanistan's largest ethnic group, while his top opponent, Abdullah Abdullah, is half Pashtun and half Tajik, the second-largest ethnic group.
Experts differ on whether the election will be a landslide or photo finish, but most agree Karzai has the advantage over Abdullah, a 48-year-old doctor who served as Karzai's foreign minister until 2006.
Another front-runner, Ashraf Ghani, has not been polling well. DeGennaro said it's because he refuses to bargain with powerful warlords and elders, a common Afghan means of garnering popular support.
While Karzai's and Abdullah's campaign headquarters have been bustling with people trying to form alliances with the next potential chief executive, Ghani has embraced a more grassroots approach.
"His compound is quite quiet. ... That's why he's not doing well," said DeGennaro, an adjunct associate professor at New York University who has taught classes on international intervention in Afghanistan.
Ghani is the best prospect for change, the professor said. He works with women and intellectuals, embraces Western-style governments and keeps human rights and social issues like literacy atop his agenda, she said.
Karzai, DeGennaro said, is more prone to bombastic promises. Afghans are increasingly weary of the war and violence in their country and Karzai has promised to boot U.S. troops out of major cities and curtail the deadly U.S. airstrikes in Afghanistan.
"It's definitely what Afghans want to hear, but he's never going to implement [his promises]," DeGennaro said.
Not much will change in Afghanistan if Karzai or Abdullah win, experts predict. In regard to human rights, the rampant opium trade and the U.S. military presence - a few of the top issues dogging Afghanistan -- "there is no significant policy daylight between them on the key issues," Anderson said.
There is also little difference in the level of support that either man would receive from Washington, he said, adding, "Irrespective of who wins, the enemy isn't going to stop."

Though Americans are largely buffered from the violence and political turmoil that unfolds daily in Afghanistan, the Council on Foreign Relations' Markey said U.S. citizens should keep an eye on the nation.
"We should care about those troops, but we should also care about stability in Afghanistan so we don't see a return to something that looks like pre-9/11 Afghanistan," he said.
E-mail to a friend

CNN's Atia Abawi and Don Lemon contributed to this report.
All About Afghanistan • The Taliban • Kabul • Hamid Karzai