By Ivan Watson
CNN





BAMIYAN, Afghanistan (CNN) -- Election workers labored in tents by the light of battery-powered lanterns, counting ballots after a day of brisk voting Thursday.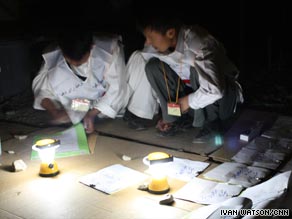 The count began under the poor light created from battery-powered lanterns in Bamiyan province.
"Karzai, Karzai, Karzai," repeated one worker as he stacked ballots into a growing pile.
Hamid Karzai, Afghanistan's incumbent president, was running for re-election after seven years in office against 40 other candidates.
"Ramazan Bashardost," another worker announced, naming the populist opposition candidate who ran a quirky campaign from inside a tent outside parliament, tossing charges of corruption at Karzai's government.
The dimly lit scene underscored the challenges of holding an election in one of the world's poorest countries.
Few roads are paved, electricity is scarce and telecommunications are spotty. On top of that, a fierce Taliban insurgency had declared war on the election.
Afghan election officials said 26 people were killed in sporadic violence around the country during the voting. A U.S. serviceman also was killed, in a mortar strike in eastern Afghanistan on Thursday.
Even central Bamiyan province, long considered one of the safest parts of the country, was not spared from insurgent threats.
Don't Miss
The governor of Bamiyan said someone fired a rocket at a polling center in the north of the province. No one was injured, however, and election organizers said all of Bamiyan's polling places opened for the election.
And despite all the difficulties, the voters came out.
"If we don't vote today, so those people who are enemies of Afghanistan, they will be the winner," said Amir Sharif, a 28-year-old man who had volunteered to monitor the vote count for one of the more than 90 politicians running for provincial council in Bamiyan.
More than 5,000 enthusiastic voters poured into the main polling center in Bamiyan's provincial capital during the day. At one point, the crowd broke off a gate at the entrance to the compound in their rush to vote.
Men vastly outnumbered women, though a trickle of female voters dressed in bright blue burkas and headscarves lined up throughout the day.
"The problem is that many women in the village level and the remote area, they don't know about their rights," explained Habiba Surabi, the governor of Bamiyan -- the only woman to hold such a position in the country. She said Afghanistan still has a long way to go before men and women have equal rights.
"All the women of Afghanistan, and especially the educated women, women leaders, have a responsibility to make aware these women, that they know about their rights," Surabi said.
She also pointed to the area's terrible dirt roads as another challenge -- they might be preventing the old and infirm from taking part, she worried.
But bad roads weren't an obstacle for an 80-year-old man who identified himself as Mohammadjan. The stooped man rode a trotting donkey to the polling center, escorted by his white-bearded son.
After casting his ballot, Mohammadjan admitted he didn't know who he had voted for.

"My eyesight is not good," he said, laughing. "Whoever becomes the next king, I hope God helps him make things better."
And, he added, hopes his vote will help bring security to this war-torn land.
E-mail to a friend

All About Afghanistan