KABUL, Afghanistan (CNN) -- More than 200 allegations of irregularities in last week's presidential elections in Afghanistan have been registered, according to the independent commission set up to handle such complaints.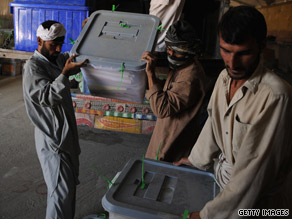 Election workers unload ballot boxes Sunday at the Independent Election Commission headquarters in Kabul.
Despite domestic accusations from one of the presidential candidates that the vote was rigged, the U.S. ambassador to Afghanistan called the election "a very well-organized campaign."
"The Afghan-led independent electoral commission looks like it managed a pretty good process," Ambassador Karl Eikenberry said Sunday. "There's adjudication systems that have been set up, an electoral complaints commission. There was a media complaints commission that was set up."
The United States invaded Afghanistan in 2001 and is in the process of bolstering its military presence there.
In a press conference Sunday, Grant Kippen, the chairman of the Electoral Complaints Commission, said approximately 225 complaints had been received about Thursday's voting.
The allegations include the stuffing of ballot boxes and intimidation of voters at polling stations.

Watch how results will come piecemeal »
Accounts of irregularities and outright fraud have been reported widely by local media and election observation groups in the three days after the election.
Don't Miss
Abdullah Abdullah, the chief election rival of incumbent President Hamid Karzai, told reporters Sunday that his campaign had gathered evidence of widespread poll manipulation by Karzai supporters.

See top candidates' bios »
He said he believed election officials in three southern provinces took ballot boxes to private homes to stuff them with Karzai votes.
Speaking at a press conference, he also accused the head of the Independent Election Commission of being in league with the Karzai campaign and working actively to support the incumbent.
The IEC is a constitutional body consisting of seven Afghan commissioners and charged with "conducting free and fair elections and referendums in an efficient and impartial way," according to its Web site.
The ECC is composed of two national and three international commissioners and was established to "adjudicate all challenges and complaints related to the electoral process," the ECC Web site said.
Under Afghanistan's electoral law, the ECC has the authority to impose sanctions if offenses have been committed. It can also challenge the eligibility of nominated candidates.
The vote count for both the presidential and provincial elections has been arduous.
Daud Ali Najafi, an IEC director, said Sunday that 75 percent of the results from local polling centers have been sent to authorities in provincial capitals. Presidential election results from 15 of the country's 34 provinces have been sent to election authorities in Kabul, he said.
Authorities expect to announce preliminary results in the presidential elections on a piecemeal basis between Tuesday and September 5.
Eikenberry, the U.S. ambassador, on Sunday described the election season as "an extraordinary two months in Afghanistan." He said millions of people streamed to the polls, though Taliban intimidation limited the turnout.

See photos from historic election »
In an interview on CNN's "State of the Union," he said it was a "very intense campaign that occurred over the last two months, all new in Afghanistan."
He cited campaign rallies and televised presidential debates and said the debates were civil.
"It was an election in which over 6,000 voting stations were set up, crossing deserts and mountains, donkeys carrying ballots to the last polling stations of Afghanistan, and a very well-organized campaign," he said.
Coalition and Afghan forces provided security in the run-up to and during the election. Many of the NATO-led countries provided enough troops specifically to provide security for the election season.
Eikenberry believes the full results will be available around September 17. He said if no candidate gets 50 percent of the vote, there will be a runoff sometime in mid-October.
"We have commitments from the forces that are here to stay on if needed for a runoff."
The commanding U.S. general in Afghanistan, Stanley McChrystal, is producing a report on the war in Afghanistan and is expected to ask for more troops, among other recommendations.
Speaking on ABC's "This Week," Sen. John McCain, R-Arizona, said he was concerned McChrystal is under "great pressures" to keep recommendations for additional troops low.
"I'm not happy with what he's going to do, because it's been published," McCain said of the calls for more troops. "It will be high risk, medium risk, low risk. Whenever you do that, they always pick the medium risk."

On "State of the Union" on Sunday, the chairman of the U.S. Joint Chiefs of Staff said that no decisions on additional troops have yet been made.
"We're not at a point yet about asking for additional troops," said Adm. Mike Mullen. "[McChrystal's] guidance from me and the secretary of defense was to go out, assess where you are and tell us what you need."
E-mail to a friend

CNN's Kevin Flower contributed to this report
All About Afghanistan