(CNN) -- More than 200 people charged in connection with last month's deadly riots in the western Chinese city of Urumqi could be tried this week, according to reports from the state-run China Daily.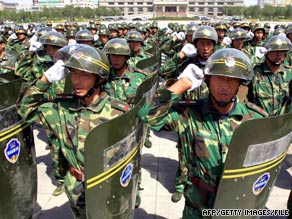 Chinese paramilitary militia chant patriotic slogans during a troop review in Urumqi, China, on July 28.
The report, posted on the newspaper's Web site, said "more than 200 suspects had been formally arrested to face prosecution" for various charges in relation to the July 5 riot in Urumqi, the capital of China's remote northwestern Xinjiang Autonomous Region.
Reports vary on the number of people killed in the ethnic riots, ranging from around 200 to many more.
Rubiya Kadeer, president of the World Uyghur Congress, said the "trials will neither be open, nor fair."
"The judicial procedures in these cases have been flawed from the very beginning and contravene China's own laws," she said. "Chinese Communist Party politicians and not the legal system have laid the groundwork for the outcome of these trials by publicly commenting on the severity with which punishment should be dispensed."
China Daily reported that those formally arrested are among more than 700 people who were detained in connection with the rioting.
The suspects were arrested in Urumqi and other parts of Xinjiang.
Don't Miss
The charges include vandalism, organizing crowds to cause bodily harm to others, intentionally causing bodily harm to others, robbery and murder, the report stated.
Security has been increased in Urumqi ahead of the anticipated trial, a police source told China Daily.


Problems in the region began in late June, after two Uyghur migrant workers at a toy factory in Guangdong province were killed in a brawl between Uyghurs, who are predominantly Muslim, and ethnic Han Chinese -- the majority group in China.
Uyghurs protested in Urumqi, hundreds of miles from the toy factory. Uyghurs and Han reportedly attacked each other.
E-mail to a friend

All About China • Xinjiang Uygur Autonomous Region