From Sohn Jie-ae





SEOUL, South Korea (CNN) -- South Korea's space program suffered a blow Tuesday after a satellite launched from its first space rocket failed to reach proper orbit, a science official said.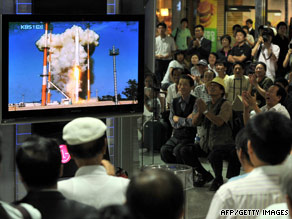 South Koreans at a railway station in Seoul watch the launch of the Korea Space Launch Vehicle-1 Tuesday.
"All aspects of the launch were normal, but the satellite exceeded its planned orbit and reached an altitude of 360 kilometers," said Ahn Byung-man, the minister of science and technology. The satellite should have separated at about 302 kilometers, according to South Korea's Yonhap news agency.
The cause of the failure was not immediately known. Korean experts were working with Russian scientists, who provided the technology for launch, to determine the reason, Ahn said.
The Korea Space Launch Vehicle-1 lifted off from the Naro Space Center on the southern coast about 5 p.m. (4 a.m. ET) Tuesday.
A series of delays had kept the rocket and its satellite payload earthbound for nearly four years, including a technical glitch that halted last week's countdown less than eight minutes before blastoff.
Don't Miss
South Korea spent 502 billion won (US $402 million) on the rocket, which is part of an ambitious plan to jump-start the country's space program, Yonhap reported.

Officials plan another rocket launch in April. The long-term goal is to create an unmanned space probe that can reach the moon by 2025, the agency reported.
The rocket was originally scheduled to be launched in late 2005, before being pushed back to October 2007 and then 2008 due to "administrative and diplomatic reasons," Yonhap reported.
E-mail to a friend

All About Unmanned Space Exploration • South Korea