KABUL, Afghanistan (CNN) -- The number of voter fraud complaints in the Afghan vote more than doubled Sunday, with election officials saying they have now deemed 567 of them serious enough to affect the outcome of last week's race.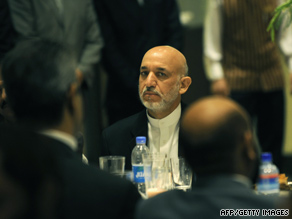 Vote tallies indicate Afghan President Hamid Karzai has taken a wider lead in the August 20 election.
On Thursday, Afghan officials said they had received 1,740 complaints, with 270 of them deemed major.
By Sunday, the total complaints had risen to 2,493. Of them 567 are considered Priority A -- or ones that can alter the results.
The grievances include allegations of polling irregularities, voter intimidation and ballot stuffing.
The Electoral Complaints Commission said that in order for the results of the August 20 vote to be certified, it must resolve the complaints it has received. Election complaints could hold up the official results.
Vote tallies released Saturday indicated that incumbent president Hamid Karzai had taken a wider lead in the race for the country's top seat.
Karzai has 940,558 votes, with his nearest rival, Abdullah Abdullah, holding onto 638,924 votes. Ramazan Bashardost came in third with 277,404 votes, said Afghanistan's Independent Election Commission.
Only 35 percent of the votes have been counted. Final election results are not expected until September.
Candidates must get 50 percent of the vote to avoid a run-off. If no candidate wins an absolute majority, there will be a run-off between the top two contenders, most likely in mid-October.
Karzai has 46 percent of the ballots and Abdullah holds 31 percent of the 2,032,734 votes deemed valid by election officials.
Abdullah has accused the incumbent of rigging the elections in his favor.
Six other presidential candidates did not point any fingers at Karzai, but they did call for an investigation into "widespread fraud and intimidation" that they said could cast doubt on the legitimacy of the vote.
For his part, Karzai's administration has remained tight-lipped on the fraud allegations.
E-mail to a friend

-- CNN's Atia Abawi contributed to this report.
All About Hamid Karzai • Abdullah Abdullah • Afghanistan