KABUL, Afghanistan (CNN) -- The U.S. Embassy in Kabul said it is joining the inquiry into claims that some of its private security guards practiced hazing rituals, sexual activity and intimidation.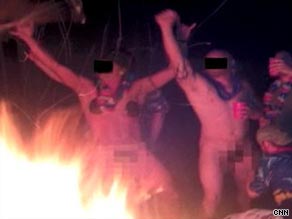 A spokeswoman for watchdog group POGO said hazing at a camp for security guards went "well beyond partying."
"A full review of local guard force policies and procedures is under way and a full investigation is ongoing," said an embassy statement released Thursday.
"Embassy officials continue to interview guard force personnel as a part of the investigation, to assess the need for possible suspensions and terminations."
Along with the investigation, the embassy has also banned alcohol at Camp Sullivan, the facility at which the guards live.
The allegations about the guards' behavior were reported by the watchdog group Project On Government Oversight.
The group sent a letter Tuesday to U.S. Secretary of State Hillary Clinton, and briefed reporters on its findings, which it said were based on e-mails and interviews with more than a dozen guards who had worked at the U.S. compound in the Afghan capital. Should initiation rituals such as hazing be allowed? Sound off below
Don't Miss
The company for which the guards work, ArmorGroup, North America, has a security contract with the State Department to provide services through July 2010, and has been cited several times for shortcomings in the security required by the contract.
A U.S. Senate panel two months ago was critical of the State Department for not closely supervising ArmorGroup, after a series of warning letters from the State Department in the year leading up to the panel's inquiry. Should initiation rituals such as hazing be allowed? Sound off below
POGO says two weeks ago it began receiving whistleblower-style e-mails, some with graphic images and videos, that are said to document problems taking place at a non-military camp for the guards near the U.S. diplomatic compound in Kabul.
"This is well beyond partying," said Danielle Brian, POGO's executive director, after showing a video of a man with a bare backside, and another man apparently drinking a liquid that had been poured down the man's lower back.
She told CNN that ranking supervisors were "facilitating this kind of deviant hazing and humiliation, and requiring people to do things that made them feel really disgusted."

The U.S. Embassy in Afghanistan said along with the investigation, it was banning alcohol, and "Embassy diplomatic security staff have been assigned to the camp on a full-time basis."
It promised to work closely with the investigation being conducted by the State Department's Office of the Inspector General, and said it would "continue to take every possible step to ensure the safety and security of American Embassy personnel, while respecting the values of all Afghans, Americans and contract employees and visitors from other countries."
E-mail to a friend