WUGANG, China (CNN) -- Authorities in China's south-central Hunan province are associating disgruntled parents of children stricken by lead poisoning with the outlawed spiritual group Falun Gong.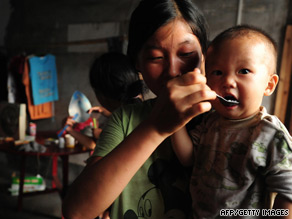 A mother feeds her child in a village near the Wugang Manganese Smelting Plant in Hunan province.
"Citizens of the Wugang area have received phone calls from members of the Falun Gong over the past several days," said Wugang Deputy Spokesman Zhen Zhaoxin. "Any resident who receives any calls or information about the Falun Gong activities are encouraged to report to the police."
He said the government, along with police, are investigating to determine the calls' origin.
But villagers said they have suffered enough and the government's accusation is "insulting."
The friction comes after residents in Wenping township, governed by the city of Wugang, last month protested pollution from an area factory that left more than 1,000 children with lead poisoning. That was one of three separate lead poisoning incidents reported in August that affected large numbers of Chinese children.

Watch more about the lead poisoning »
Residents of Wenping and nearby Simachong village denied any connection to Falun Gong. They said they were not even familiar with the religious sect. They just wanted their children to be well again.
China banned Falun Gong in 1999 and has cracked down on practitioners. An August 26 public notice warned villagers to beware of Falun Gong members and instructed people to watch for "reactionary propaganda" sent online and by phone. The Wugang government issued similar information on its Web site.
The villagers said the government wants them to keep quiet, but they are worried.
"They are insulting us," said one woman, holding up the public notice. "They said we are spreading the rumors."
The villagers' lives were shattered when, one by one, children began to fall ill. So far, 1,354 have tested positive for abnormal levels of lead in their blood. Many have stopped eating and are constantly fatigued. Others are not growing hair. Some parents worry they will not be able to provide medical care for long-term problems.
Lead poisoning can cause irreversible damage in the nervous and reproductive systems and cause high blood pressure, memory loss and loss of appetite, according to the Centers for Disease Control and Prevention and the World Health Organization.
Xiao Aijun, the father of two sick children, was angered by the government's claims.
"My baby's been in the hospital for more than 20 days," he said of his 10-month-old daughter, Xiao Junmei. "We have to go back in the month. Look at her hair, look at her hair.
"They said we're Falun Gong," he said. "What is this all about? I have no idea. I don't even know what that is."
Some villagers told CNN that 15 parents who protested factory pollution had been detained by police. CNN could not reach local police for comment, but Zhen, the Wugang spokesman, denied the reports.
"We would not detain parents. After all, they need to be with their children at this time," he said. "This is definitely not the case."
The lead poisoning in Wenping stemmed from the Wugang Manganese Smelting Plant. Similar incidents were reported in northern Shaanxi province, where 851 children were affected, and in southwestern Yunnan province, where 200 children were sickened.
China's Ministry of Environmental Protection has dispatched inspectors to examine the plants in Shaanxi and Hunan.
Wugang government officials say children who live as far as 20 kms (12.5 miles) from the polluting factories in Wenping and Simachong have been affected. One mother, whose son was hospitalized, said she would have moved long ago if she had known.
Another Wugang government spokesman, Lei Zanning, said authorities are keenly aware of environmental protections.

"We can't sacrifice it for the sake of economic development," he said.
But lead poisoning is a serious problem in China, according to Steven Ma of Greenpeace. About 10 percent of the nation's arable land and 12 million tons of annual food crops are contaminated with lead, he said.
E-mail to a friend

All About China • Falun Gong