KABUL, Afghanistan (CNN) -- Fourteen employees of a U.S. security contractor accused of wrongdoing at the U.S. Embassy in Afghanistan have been fired and were leaving the country, the U.S. Ambassador to Afghanistan said Friday.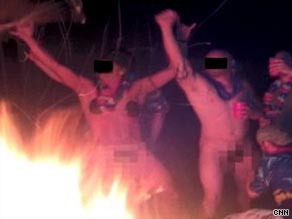 A spokeswoman for watchdog group POGO said hazing at a camp for security guards went "well beyond partying."
Allegations surfaced last week that contractor ArmorGroup North America allowed mistreatment, sexual activity and intimidation within the ranks of private guards hired to protect the embassy in Kabul. The company and U.S. officials are investigating.
"We've immediately taken several actions," said Ambassador Karl Eikenberry. "First of all, 13 of the employees of ArmorGroup have been terminated from their contracts. That's a combination of some management and any of the individuals that were involved in this very disgusting behavior that occurred."
After Eikenberry spoke with CNN, another ArmorGroup employee was fired.
In addition, the entire senior management team of ArmorGroup North America in Kabul was to be replaced immediately, the U.S. embassy in Kabul said.
The embassy's security office is continuing interviews of all ArmorGroup guards and a team from the State Department's inspector general's office has arrived in Kabul and begun an investigation, the release said.
The allegations came to light last week when the watchdog group Project on Government Oversight sent a letter to Secretary of State Hillary Clinton and briefed reporters on its findings, which it said were based on e-mails and interviews with more than a dozen guards who have worked at the U.S. compound in Kabul.
Don't Miss
The watchdog group said it began receiving whistleblower-style e-mails two weeks ago, some with graphic images and videos, that are said to document problems taking place at a nonmilitary camp for the guards near the U.S. diplomatic compound in Kabul.
"This is well beyond partying," Danielle Brian, executive director of Project On Government Oversight, told reporters earlier this week after showing a video of a man with a bare backside and another man apparently drinking a liquid that had been poured down the man's lower back.
ArmorGroup has a security contract with the State Department to provide services through July 2010.
Wackenhut Services Inc., the corporate parent of ArmorGroup, said in an e-mail it is "fully cooperating" in the investigation.
E-mail to a friend

All About U.S. Embassy in Afghanistan • Kabul • Afghanistan