CIANJUR, Indonesia (CNN) -- Roads blocked by earthquake debris were cleared enough Friday to allow the addition of heavy machinery for the first time in the search for dozens of people trapped under rubble.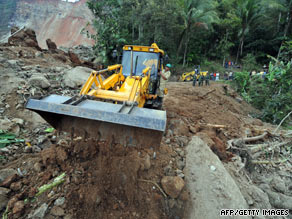 Indonesian rescuers use heavy machinery in the search effort in Cianjur in West Java on Thursday.
Those trapped in Cianjur, on the island of Java, have showed no signs of life since the 7.0-magnitude quake shook the region Wednesday. A landslide buried at least 11 homes in Cianjur.
The quake killed at least 64 people and injured more than 400, according to the National Disaster Coordinating Agency.
Indonesian President Susilo Bambang Yudhoyono has visited Cianjur and vowed to free up nearly $500,000 (5 billion rupiahs) for emergency response efforts, according to the state-run Antara news agency.
There was no immediate need for foreign assistance, he said.
"Until now, the Indonesian government is still able to handle it by itself using existing national resources," he said, according to Antara.
The 7.0-magnitude earthquake jolted the island on Wednesday shortly before 3 p.m. local time (4 a.m. ET). More than 400 people were injured.
The temblor rocked high-rise buildings in Jakarta, prompting a mass evacuation in the capital's central business district. iReport.com: Swimming pool shakes during quake
"I was on the 13th floor of our office building, and you know we could feel the building (shake) from left to right," said CNN's Andy Saputra. "We all ran to the fire escape and escaped from there."

Hear a report from the scene »
Indonesia is no stranger to major earthquakes. It is located on the "Ring of Fire," an arc of fault lines circling the Pacific Basin that is prone to frequent earthquakes and volcanic eruptions.

In 2004, an earthquake measuring at least 9.0 in magnitude struck off the coast of the northern tip of Indonesia's Sumatra island, triggering a major tsunami in the Indian Ocean that killed more than 200,000 people in 11 countries.
About three weeks ago, a series of earthquakes -- ranging in magnitude from 4.7 to 6.7 -- struck off the western coast of Sumatra. At least seven people were injured and one building collapsed.
E-mail to a friend

All About Indonesia • Natural Disasters • Earthquakes