KABUL, Afghanistan (CNN) -- The top U.S. commander in Afghanistan said Saturday he was convinced that civilians, in addition to militants, were among those wounded in a NATO airstrike that killed at least 90 people in northern Afghanistan.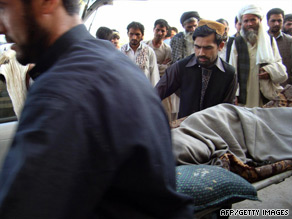 A victim of an ISAF airstrike on a hijacked oil tanker is carried into the Kunduz hospital on Friday.
Gen. Stanley McChrystal toured the site of the massive explosion that occurred early Friday as Afghans tried to siphon fuel from two tankers that were hijacked late Thursday by the Taliban in Kunduz province.
The fuel was earmarked for NATO's International Security Assistance Force, known as ISAF.
ISAF Capt. Elizabeth Mathias said Friday the military believed there were no civilians near the trucks at the time of the attack. NATO learned afterward that this was not the case.

Watch more about the airstrikes »
McChrystal visited the hospital Saturday where the injured were being treated.
"It's important to me that we be as honest with the Afghan people and with people around the world as possible," he said.
Don't Miss
"Of course, you don't know all the facts until an investigation's complete. And I clearly don't know all the facts now, and would not want to affect a potential investigation by making some conclusion that might be inappropriate.
"But from what I have seen today in going to the hospital, it's clear to me that there were some civilians that were harmed at that site."
The total death toll has varied depending on the source, but local Afghan officials have said at least half of those killed were civilians.

See images of the strike aftermath »
NATO and Afghan authorities were investigating.
The Taliban gave villagers the go-ahead to drain the tankers after they became stuck in the mud when the militants tried to drive them through the Kunduz River.
With the trucks stuck on the riverbank, the German commander of the NATO forces in the area called in the airstrike, the German military said. No German soldiers or planes were involved in the attack.

Afghan President Hamid Karzai said Friday he was "deeply saddened" by the deaths and reiterated that no civilians should be killed or injured in anti-terrorist military operations.
U.S. Brig. Gen. Eric Tremblay released a statement saying, "ISAF will do whatever is necessary to help the community, including medical assistance and evacuation as requested. ISAF regrets any unnecessary loss of human life."
E-mail to a friend

All About Afghanistan • NATO