KABUL, Afghanistan (CNN) -- Afghanistan's Electoral Complaints Commission on Tuesday ordered a partial recount of the ballots in the August 20 presidential election.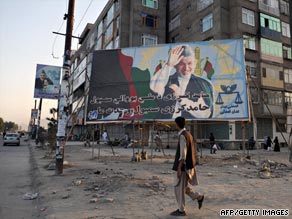 A man walks past a billboard with a photo of Afghanistan's President Hamid Karzai in Kabul on September 6, 2009.
The complaints commission called on Afghanistan's Independent Elections Commission (IEC) to conduct the audit and recount because of "clear and convincing evidence of fraud in a number of polling stations."
Most of that fraud evidence is an "exceptionally high number" of votes cast in a polling station "in relation to the number of ballots available" or an extremely high number of votes cast for only one candidate, according to the ECC.
Therefore, the ECC is ordering an audit and recount of ballots at polling stations where the total number of votes is 600 or more, and represent a voter turnout of 100 percent; and where one candidate received 95 percent or greater of the total valid votes, if the total number of votes exceeds 100.
The ECC has received more than 2,000 complaints since the election, including more than 700 it has deemed "Priority A."
Preliminary election results based on about 92 percent of the polling stations show Afghan President Hamid Karzai has a sizeable lead over his nearest challenger.
The IEC said Tuesday that Karzai has just over 54 percent of the vote, compared to just over 28 percent for his former foreign minister, Abdullah Abdullah. A presidential candidate needs more than 50 percent of the vote to avoid a runoff.
The order for a partial recount comes after U.S. Ambassador to Afghanistan Karl Eikenberry urged Afghanistan President Hamid Karzai to allow the investigation into vote fraud, senior State Department officials said.
The two met Monday night in Kabul, the officials said.
Eikenberry urged Karzai to allow the IEC to thoroughly investigate vote fraud and determine which votes are accurate and then apply a very high standard to determine which votes are counted, according to the officials.
Once that is determined, IEC officials would determine whether a runoff is necessary.
Karzai said he is sure there was fraud in the election, but it is something that cannot be avoided in a growing democracy, according to an interview with Paris daily newspaper Le Figaro which was published on Monday.
He told the newspaper that there was election fraud during the last presidential election in 2004, and there will be fraud in the future.
He said he would respect the final election results.
Karzai also said he "is not a puppet of the United States" and criticized British and American media outlets which he said "lacked respect" regarding the elections. Karzai blamed British and American journalists for trying to delegitimize the future Afghan government.
In the days following last month's election, the IEC has sought to reassure voters of its impartiality and transparency in tallying the results, mainly responding to fraud accusations by Karzai's chief challenger, Abdullah Abdullah.

Karzai ran for a second term. Abdullah is Karzai's former foreign minister.
One official called it a "shot across the bow to the Afghanistan government" to make sure the IEC is free to do its job free of interference.
E-mail to a friend

CNN's Elise Labott in Washington and Atia Abawi in Kabul, Afghanistan, contributed to this report.
All About Hamid Karzai • Afghanistan • Abdullah Abdullah