KABUL, Afghanistan (CNN) -- Afghan presidential election results from five polling stations were declared invalid by the Electoral Complaints Commission on Thursday because of fraud.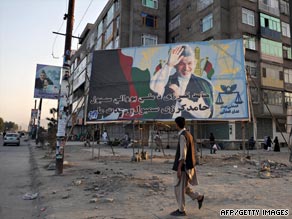 A man walks past a billboard with a photo of Afghanistan's President Hamid Karzai in Kabul on September 6, 2009.
The polling stations are in Paktika province, where incumbent President Hamid Karzai has considerable support.
The decision comes as the Independent Elections Commission of Afghanistan carries out a partial recount of the August 20 presidential election.
The complaints commission said it is ordering the elections panel to invalidate the results from the five polling stations in Paktika because of evidence that "the ballots were not legally cast, or were not legally counted."
For example, the result sheet in one ballot box indicated 550 ballots for a candidate, but there were only 35 ballots in the box, the complaints commission said. Other ballot boxes contained hundreds of votes for certain candidates, but none were folded, "proving they were not cast through a ballot box slot," the commission said.
The commission is still investigating more than 2,000 complaints of voter fraud since the election, including more than 700 it has deemed "Priority A."
Karzai has a sizable lead over his nearest challenger, based on the results from about 92 percent of the polling stations. The Independent Elections Commission said Tuesday that Karzai has just over 54 percent of the vote, compared with just over 28 percent for his former foreign minister, Abdullah Abdullah. A presidential candidate needs more than 50 percent of the vote to avoid a runoff.
U.S. Ambassador to Afghanistan Karl Eikenberry, during a meeting in Kabul on Monday, urged Karzai to allow the investigation into vote fraud, senior State Department officials said.
Eikenberry called on Karzai to allow the elections panel to thoroughly investigate vote fraud and determine which votes are accurate and then apply a very high standard to determine which votes are counted, according to the officials.
Karzai said he is sure there was fraud in the election, but it is something that cannot be avoided in a growing democracy, according to an interview published Monday in the Paris daily newspaper Le Figaro. He told the newspaper that there was election fraud during the previous presidential election, in 2004, and there will be fraud in the future.
He said he would respect the final election results.
The U.S. Embassy in Kabul has called on Afghan candidates and their supporters "to show patience as the process continues."
"In this difficult process, we look to the Independent Electoral Commission and the Electoral Complaints Commission to rigorously carry out their legal mandates to count all votes and to exclude all fraudulent votes," the embassy said in a statement released Monday.
"The United States will await the results at the end of the process when ratified by the ECC, as well as the IEC, as set out in Afghanistan's electoral law."
E-mail to a friend