By Reza Sayah
CNN





ISLAMABAD, Pakistan (CNN) -- The death toll from a stampede during a flour giveaway in Karachi rose to 18 Tuesday, police said.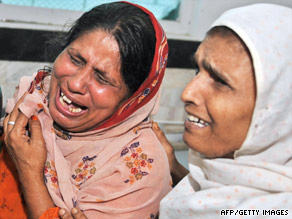 Pakistani women mourn relatives' deaths Monday at a Karachi hospital after a stampede.
Twelve others were injured in the crush.
Authorities believe the number of dead may continue to climb, according to Gholam Mohammad of Karachi police. Two children were among the fatalities.
The stampede took place Monday when hundreds of people tried to race into a compound to get flour as part of a charitable giveaway.
A man named Chaudhry Iftikhar had organized the giveaway at his compound to help the poor.
Police say Iftikhar has been arrested because he did not notify proper authorities before holding the giveaway.
The U.N. World Food Program estimates that 24 percent of Pakistan's population is undernourished and that 38 percent of children under age five are underweight. It calls the state of hunger in Pakistan "alarming."
Fighting in tribal regions has displaced millions. The World Food Programme said that in July it "fed over two million of those displaced by the recent fighting."
E-mail to a friend

All About Pakistan