KABUL, Afghanistan (CNN) -- Afghan President Hamid Karzai on Thursday warned Western observers not to "delegitimize" the results of his country's presidential election, which has been marred by allegations of fraud.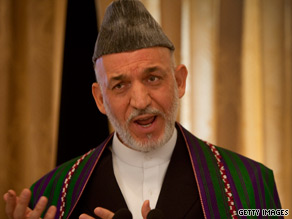 Karzai gives a news conference Thursday to defend his corner in the face of international allegations of vote fraud.
Results of the completed count, announced Wednesday, gave Karzai 54 percent of the vote in the August 20 poll, but the numbers won't be certified until authorities investigate allegations of irregularities. More than 200,000 of the nearly 5.7 million votes cast have been thrown out, including 29,000 in a swath of Afghanistan where Karzai has strong support, and European Union observers have raised questions about 1.5 million more.
In an interview with CNN's "The Situation Room," Karzai said he would leave the complaints to Afghanistan's two electoral bodies. But addressing the Western powers who have supported his government with financial aid and troops, he said, "It is not in anybody's interest to try to delegitimize the election of the Afghan people."
"I don't think we are serving ourselves by throwing such massive doubts on the election of the Afghan people, who conducted it under such extreme difficulties that I don't think history has witnessed as far as elections are concerned," he said.
Taliban insurgents had warned Afghans not to vote, threatening them with violence, in an effort to discredit the entire electoral process. Karzai lauded the bravery of Afghans who ventured out to cast a ballot, despite the security risks.
Karzai needs to get more than 50 percent of the vote to avoid a runoff in his bid for a second term. His chief rival, former Foreign Minister Abdullah Abdullah, has said he has "no doubt" Karzai and his supporters worked to rig the vote in the incumbent's favor.
Don't Miss
Karzai told CNN that he would not attack "a fellow Afghan on international media." But he has acknowledged that some government officials were "partial" to his candidacy, while others supported Abdullah -- a situation he said could be expected until Afghanistan realizes more stability.
Hours before the results were announced Wednesday, European Union election observers said they found that more than 1.5 million votes cast in the election were suspicious -- 1.1 million of them for Karzai. Another 300,000 of them were cast for Abdullah and 92,000 for another candidate, Ramazan Bashardost, according to the observers.
Earlier Thursday, Karzai blasted the European team for announcing its findings, saying that it was "irresponsible and in contradiction with Afghanistan's 'constitution." And he told CNN that the European observers "are also being studied as to who they are, where they come from."
Asked whether he would submit to a runoff with Abdullah to settle the election, he said, "We cannot claim a wrong and then commit another wrong in order to make a right."
"If the election is wrong, then it has to be redone all over again," he said. But he said he would not accept a runoff "as a compromise, if the premise is that the election is wrong."
Karzai told reporters earlier Thursday that he believes "firmly" that the election was legitimate, and criticized the "overwhelmingly negative" portrayal of the vote by international news outlets.
E-mail to a friend

All About Afghanistan