By Kristin Cuff
CNN





TOKYO, Japan (CNN) -- Rows of tiny Jizo statues line the gardens of the Buddhist Zojoji Temple in Tokyo. Jizo is one of the most beloved of all Japanese divinities.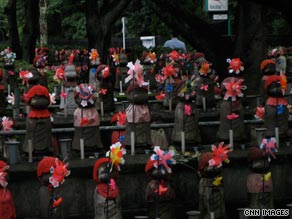 Tiny statues of Jizo, a Japanese deity lines the gardens of the Zojoji temple in Tokyo.
Traditionally he is regarded as the guardian of children, especially children who have died before their parents. Jizo's features are made babylike in order to resemble the children he protects.
Grieving parents adorn the statues with children's clothes and colorful windmills to comfort the spirit of their lost little ones.
In Japanese mythology it is believed that the souls of children who die before their parents are unable to cross the mythical Sanzu River on their way to the afterlife.
It is said that Jizo will offer the children protection in their journey through this underworld.
E-mail to a friend