By Jim Kavanagh
CNN





(CNN) -- Residents of close-knit American Samoa are pulling together to help Pago Pago recover from Tuesday's devastating earthquake and tsunami, one of them told CNN on Wednesday.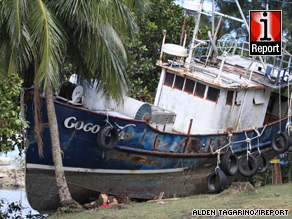 A boat washed up on the shoreline Wednesday in the American Samoan capital, Pago Pago.
"That's how we operate over here in American Samoa -- basically everyone is related," said iReporter Maneafaiga T. Lagafuaina, 29, of the town of Lu'uuli. "And I know, at this time, especially with what American Samoa has experienced, we have pulled together as one.
"Families and friends from both ends of the island have found ways to volunteer and to help out with the village of Pago with the disaster that they're going through right now," said Lagafuaina, who runs the computer system for the Pacific territory's legislature.
At least 111 people were confirmed dead -- 22 in American Samoa, 82 in Samoa and seven in Tonga, according to officials on the islands.
A U.S. Coast Guard C-130 cargo plane from Hawaii was scheduled to land with relief supplies around sunrise Wednesday in American Samoa, said Craig Fugate, administrator for the Federal Emergency Management Agency. A second C-130 was scheduled to land about five hours later.

Watch cars and boats tossed, homes destroyed »
The earthquake shook Lagafuaina out of bed shortly before 8 a.m. Tuesday, he said. Samoans know that earthquakes can cause tsunamis, and many people immediately rushed toward the inland mountains, he said. A tsunami did strike about 20 minutes later.

Learn how tsunamis happen »
Pago Pago, the territorial capital at the apex of a U-shaped harbor, took the brunt of the tsunami. The town houses about 11,000 of the territory's 66,000 people.
Don't Miss
"Houses were completely demolished, they were all shattered into pieces of timbers, they were all floating in the waters, and (survivors) were still looking for some missing relatives. I've never seen something like this before in my whole life," resident Maulolo Tavita said.

See amazing iReport images »
Lagafuaina's area had a few falling rocks and trees from the quake but is too high up to be affected by the tsunami, he said.
Power was out in much of the island's eastern district, telephone service was spotty and many businesses, schools and government offices are closed until further notice, Lagafuaina said.

Map »
Recovery operations are continuing 24 hours a day. Businesses are contributing heavy equipment such as bulldozers and backhoes to the effort, he said.
"Our first line of defense, meaning the police, our hospital, EMS, our homeland security, they have done a tremendous job," Lagafuaina said. "This is one of the first events that has happened that has shocked the whole entire island." iReport: See images, video of the devastation
Pago Pago has just one road in and one road out, so access is difficult.
"The roads are blocked and the island is cut in half," survivor Tausatolo Taugi said.
American Samoa has seen natural disasters before.
"Our hurricane season is pretty bad, but not as bad as this was," Lagafuaina said.
"The life we live nowadays is never safe," he said. "I mean, you can go live in Texas and we can substitute a hurricane with a tornado. But to have a tsunami -- the effect that we have with a tsunami is that anywhere else could have an earthquake; we just had an earthquake and a tsunami. We got the best of two worlds."

Now all that's left is to clean up and cope, resident Steve Percival said:
"The aftermath has already passed by," he said, "so now we are just having to deal with the tragedy and the loss of life."
E-mail to a friend

CNN's Zain Verjee in London, England, contributed to this report.
All About American Samoa • Samoa • Tonga • Natural Disasters