(CNN) -- Ketsana, downgraded from a typhoon to a tropical depression, set its sights on a fourth nation Wednesday -- barreling toward Laos after leaving a trail of destruction and death across southeast Asia.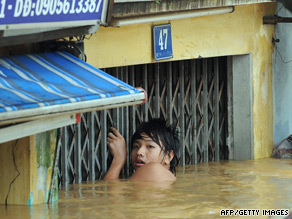 A man tries to get into his flooded house in Hoi An in the central Vietnamese province of Quang Nam.
By Wednesday morning, the death toll from the storm's rage had topped 325: at least 246 in the Philippines, 74 in Vietnam and nine in Cambodia.
With heavy rains still lashing Vietnam, some major roads were closed and rivers and flood waters were rising. But the airport in the coastal city of Danang, which had been closed for three days, reopened Wednesday.
Workers used chainsaws to clear toppled trees from roads so rescue crews could rush relief supplies to the worst-hit areas. Families waded through knee-deep water to salvage precious belongings from flooded houses.
In Danang, an ill elderly woman was brought to safety on a make-shift raft made of banana tree trunks and leaves. She said eight other family members remained on the rooftop where they had found refuge.
In addition to the 74 deaths, the Vietnamese government said 179 people were injured.
The numbers, the government said, are expected to rise because officials have not been able to reach some isolated areas.
Vietnam has not asked for aid but some international relief agencies were providing help, which the government accepted.
Don't Miss
In neighboring Cambodia, the storm knocked down 92 houses in Kampong Thom province, about 80 miles (130 km) north of the capital Phnom Penh.
Along with the usual rice and blankets, the Cambodian Red Cross planned to donate $120 to each of the affected families so they can afford a traditional funeral for their loved ones.
The nine deaths reported in Cambodia were all in Kampong Thom, with 40 others injured there, the Red Cross said.
The worst-hit country, the Philippines, began the slow process of clearing up mud and debris Wednesday.
Even as they did so, Filipinos kept their eyes peeled on another storm looming in the Pacific Ocean.
In the city of Pasig -- part of metropolitan Manila -- enterprising residents used inflatable mattresses as makeshift boats to ferry people through flooded streets.
The government, which some people said did not act quickly enough, opened up part of the presidential palace for aid distribution.
Ketsana left at least 246 people dead as it passed over the Philippines. Another 38 people were still missing, the National Disaster Coordinating Council said.
The storm affected nearly 2 million people and forced the evacuation of 567,000. At one point, 80 percent of the capital Manila was under water after experiencing the heaviest rainfall in 40 years.
As the death toll rose, so did the collective grief.
"I did not know what happened," said Gingerly Comprendio. "We were on top of a roof. We got separated. The next day when I came back to our house, I saw my eldest already dead and my aunt saw my other child buried in the mud."
Ray Lee, a prominent judge, single-handedly saved 32 people using his jet ski.
"There were cries for help, so I returned to other houses or roofs and retrieved all the people there," he said.

To help avoid a humanitarian catastrophe, several nations have rallied to the Philippines' side.
Secretary-General Ban Ki-moon said the United Nations was considering an emergency appeal for aid as several U.N. agencies pledged support. The World Food Program said it will provide rations to 180,000 people.
E-mail to a friend

CNN's Arwa Damon in Danang, Vietnam, and Dan Rivers in Manila, the Philippines, and journalist Asha Phillips in Ho Chi Minh City, Vietnam, contributed to this report.
All About Floods • Philippines • Vietnam