By Harmeet Shah Singh
CNN





NEW DELHI, India (CNN) -- At least 300 people have been killed and more than 1 million displaced in the flooding triggered by torrential rains in India, officials said Tuesday.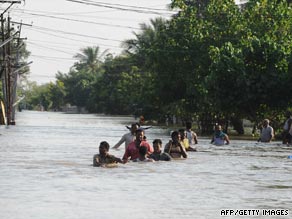 Residents wade through floodwaters in a village some 240 kilometres from Hyderabad.
At least 199 people have died in the southern state of Karnataka, its disaster-management secretary H.V. Parshwanath told CNN. More than 650,000 people there have been housed in 1,619 relief camps, he said.
Military officials said they had wrapped up most rescue efforts in Karnataka and in neighboring Andhra Pradesh state because floodwaters were receding.
Authorities put the death toll in Andhra Pradesh at 63. More than 550,000 people have been displaced, said Dinesh Kumar, commissioner of the state's disaster-monitoring department. Indian air force planes and helicopters dropped food packets for residents in submerged regions.
Flooding also has killed at least 38 people, including one in a rain-triggered landslide, in Maharashtra state, officials said. About 3,000 people have been displaced there, said S.C. Mohanty, director of the state's disaster-management agency.
"Rescue and relief operations are in full swing, and it may take a few more days for the situation to stabilize," said federal home minister P. Chidambaram, who inspected flooded states by air.
"There will be more work to be done in the days and weeks ahead," he said in a statement.
India's army has supplied more than 4.5 tons of food to flood-ravaged zones in Karnataka and Andhra Pradesh, the military said, and soldiers have evacuated more than 2,000 people from the same areas.
Meanwhile, Indian Prime Minister Manmohan Singh announced assistance payments of about $2,000 for the families of each person killed in the flooding, his office said.
Thousands of people die each year in India during seasonal monsoon rains.
As of last month, more than 1,100 people had died in the flooding in various parts of the country, the federal Home Ministry said.
E-mail to a friend

All About India