BEIJING, China (CNN) -- Six people were sentenced to death for murder and other crimes in July riots that killed about 200 people in western China, state media reported Monday.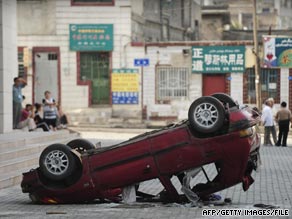 A car lies overturned in the wake of the July unrest in China's Xinjiang province.
A seventh person was sentenced to life in prison, the Xinhua news agency said.
Spokesman Dilxat Raxit of the World Uyghur Congress -- a dissident Uyghur group based in Munich, Germany -- told CNN by phone: "The World Uyghur Congress strongly condemns the death sentencing of the six Uyghurs today. These Uyghurs did not have access to legal aid during the entire process of their detention, nor during the trial."
The riots in July were prompted by long-simmering resentment between minority Uyghurs and majority Han Chinese. The Uyghurs are mostly Muslims in western China's Xinjiang province. Some Islamists refer to the region as East Turkistan.
Last month, China sent 7,000 officials to Urumqi to ease tensions after Han Chinese protested a series of attacks in which syringes were used as weapons. The syringe attacks by Uyghurs started August 17.
The July riots were spurred by a June melee at a toy factory in Guangdong province, where many migrants, including Uyghurs, have moved in search of work, according to Xinhua.
A massive brawl reportedly broke out between the two ethnic groups after a Uyghur worker pursued a Han woman in the factory. Two Uyghurs were killed, Xinhua said.
A man was sentenced to death and another to life imprisonment in the factory brawl, Xinhua said Saturday. Nine others convicted in the fight received prison terms of five to eight years, Xinhua reported.
China's constitution guarantees ethnic minorities equal rights. However, minority groups such as the Uyghurs say the Han discriminate, and ethnic tensions run deep.
E-mail to a friend