(CNN) -- Afghan women have had seen their status rise and fall repeatedly over the past three decades, before the strictly Islamic Taliban muscled their way to power and forced women to again wear the burqa and stay out of school.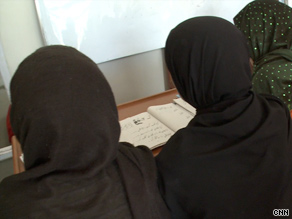 Women at the shelter receiving an education.
The U.S. bombardment of Afghanistan in 2001 drove the Taliban from the halls of power, again lifting women to a better place. But now, a leading female member of the Afghan parliament says, those hard-won gains are retreating.
"After 2001, I call it like a golden opportunity for woman in the first five -- three, four, five -- five years," Fawzia Koofi, one of 68 female members of the parliament, told CNN's Christiane Amanpour on Thursday.
"However, like you had women in the parliament, you have several movements of women. You have girls going back to school. You have female doctors in the hospitals. You have female teachers who are going to school. With all this, I think the past three years, the situation of women is getting worse."
The problem, she said, lies in political attitudes.
"Unfortunately, there are certain elements within the government, outside the government, nowadays mainly within the government, who don't believe in women's progress, because they think, if women becomes stronger, they will lose the power," Koofi said.
"I think there is need for a strong political government and a civil government that actually is committed to equal rights and opportunities and to the rule of law," she said. "Everybody, according to the Constitution, is equal before the law."
Don't Miss
"This is first. Rule of law is the key for progress of women."
Koofi said that polling indicated that "the ordinary people of Afghanistan" were comfortable and in some cases favored female legislators -- and, perhaps more importantly, were supportive of women's issues.
But, she said, the greater danger lies with Afghanistan's former rulers -- the fundamentalist Taliban.
"I think if they come back to power, women will be the first victim, because they have demonstrated a strong voice of equality," Koofi said.
The Taliban imposes harsh restrictions on women, frequently flogging them for violating their strict interpretation of Islamic sharia law.
"It's not a time for the international community and Afghan government to talk about bringing back Taliban to power," she said. "I think the situation would go even worse compared to what it was in 1997 and 1998, when it comes to women's issues, because after the removal of Taliban, you had such outspoken women who were asking for their rights, who were asking for democracy, who were asking for equality."
Koofi's comments come as the Obama administration considers its Afghanistan policy. Some argue for a shift to counterterrorism operations and away from counterinsurgency operations, which critics argue might give the Taliban a leg up in the fight for the country.
But the U.S. commander in Afghanistan, Gen. Stanley McChrystal, has asked for thousands more troops to continue his counterinsurgency strategy.

A key test for Afghanistan will come when the final election results from Afghanistan's disputed election are released, possibly as soon as this weekend. How Afghan leaders react to those results will be closely watched by not only human rights campaigners such as Koofi, but also the United States and NATO countries that are considering their strategy in Afghanistan.
"I think what's important is, first of all, not only for women of this country, for any human being in Afghanistan, we need to, first and foremost, have a stable, strong government to be able to function and deliver," Koofi said. "And then both men and women of this country will be able to benefit."
E-mail to a friend

All About Afghanistan • War and Conflict • The Taliban