By Jill Dougherty
CNN Foreign Affairs Correspondent





WASHINGTON (CNN) -- With a runoff presidential election in Afghanistan appearing likely, Secretary of State Hillary Clinton told CNN on Friday that she expects the current president, Hamid Karzai, to win.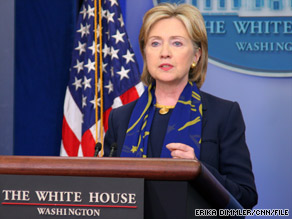 Hillary Clinton lauds the president's patience and persistence while deciding about troop strength.
"It is likely that they will find that President Karzai got very close to the 50-plus-1" in August's balloting, she said in an exclusive CNN interview, referring to the 50 percent plus one vote needed to avoid a runoff. "... I think one can conclude that the likelihood of him winning a second round is probably pretty high."
Clinton said the timing of President Obama's decision on whether to commit more troops to the fight in Afghanistan will not hinge on the election results. "I think the president is expecting to make a decision on his own timetable," she said, "when he is absolutely comfortable with what he believes is in the best interest of the United States."
Karzai faces allegations of corruption and vote fraud in the election, but the secretary of state sidestepped a question of whether he is a "reliable" partner for the United States and the international community. Administration officials have said that without a reliable partner, a counterinsurgency effort in Afghanistan would not succeed.
Clinton said that Obama, while accepting the likelihood that Karzai will be returned to office, is taking a dual-track approach: putting pressure on Karzai to improve his performance while working with other power centers in Afghanistan.
"Let's wait and see how this election turns out," she said. "Let's determine what the winner -- assuming it is President Karzai -- commits to do and the measures of accountability that can be put into place to more effectively guarantee the outcomes that we're seeking."
Don't Miss
Obama, she said, now is looking at "how we can have a different and more effective relationship with the Afghanistan government, whoever is the final victor, but not only with the government in Kabul, but with governors throughout the country, with what they call subnational, regional, local leaders. And there's been a lot of thought given as to how we would do that."
Over the past eight years, the United States and the international community did not set high enough expectations for Karzai, the secretary said. But, she added, "we're going to change that, and we are in the process of working through the best ways to do that."
Clinton also revealed more about how Obama is approaching his decision on troop strength. Obama and members of his Cabinet, she said, "wanted to examine every assumption" about the situation in Afghanistan.
"There were no questions or topics off limits," she said. "I think we've done a thorough job of analysis, and now we're moving into the decision phase, and I'm sure that the president's going to be asking all of us what is our advice to him, and then, when he makes a decision, what is it we are all going to contribute to actually executing his decisions."
Everyone in the process "has learned a lot," she said. "I think the president has been extremely skillful in probing and asking all the hard questions. We've had just the most thorough scrubbing."
But Clinton expressed some frustration about news media reporting on the president's decision process. "It's understandable people want us to walk out of a meeting where we may have focused on the military side or we may have focused on the governmental side and say, 'OK, fine, what have you guys decided?'
"I just think that it's to the president's credit that he has had the patience and the persistence to really force the process without responding prematurely."
Clinton did not say whether she has urged the president to commit more troops to protect State Department and U.S. Agency for International Development staff working in Afghanistan on civilian and development projects.
She noted, however, that "the military at least has the capacity to defend itself. You know, they get to carry guns. Our agronomists or our economic advisers, you know, are pretty much out there dependent upon the security environment that can be created by the military."
E-mail to a friend

All About Hamid Karzai • Hillary Clinton • Afghanistan