From Kyung Lah CNN





TOKYO, Japan (CNN) -- The ambassadors of eight Western nations urged Japan on Friday to consider signing The Hague Convention on international child abduction.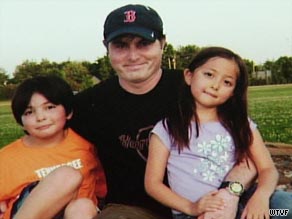 Christopher Savoie was jailed in Japan after trying to get kids back from their mother.
The meeting came as an American Christopher Savoie, jailed for allegedly wresting his two children away from his ex-wife, was released by Japanese authorities and was on his way home to Tennessee.
"The left-behind parents of children abducted to or from Japan have little realistic hope of having their children returned and encounter great difficulties in obtaining access to their children and exercising their parental rights and responsibilities," said a statement from representatives of the United States, Britain, Canada, France, Italy, New Zealand, Spain and Australia, who met with Japanese Justice Minister Keiko Chiba.
Japan has signaled that it is willing to sign The Hague treaty on grounds that it would provide better protection for children of divorced parents.

Watch report on diplomatic efforts »
Article 1 of the treaty, which standardizes child abduction laws among participating countries, states its objectives: "To secure the prompt return of children wrongfully removed to or retained in any contracting state; and to ensure that rights of custody and of access under the law of one contracting state are effectively respected in the other contracting states."
Savoie, a Tennessee native and a naturalized Japanese citizen, would have had greater rights in his bitter custody bid had Japan been a signatory of The Hague Convention.
His ex-wife, Noriko Savoie, had agreed to remain in the United States after the couple's divorce became final. She was granted custody of the children by a U.S. court and Christopher Savoie was given visitation rights.
But Noriko Savoie fled with her children to her native Japan.
Savoie then filed for and received full custody of the children in a U.S. court. Last month, he traveled to the southern Japan town of Yanagawa, where he grabbed his children and headed for the nearest U.S. consulate.
Police arrested him while he was still on Japanese soil. Police in Tennessee issued an arrest warrant for Noriko Savoie after she returned to Japan, but there wasn't much they could do since Japan is not a party to The Hague treaty. So while Japanese civil law stresses that courts resolve custody issues based on the best interest of the children without regard to the parent's nationality, foreign parents have had little luck in regaining custody.
Meanwhile, Japanese family law follows a tradition of sole custody divorces. When the couple splits, one parent typically makes a complete and life-long break from the children.
The G-7 nations said they urged Japan to implement measures that would allow parents separated from their children to maintain contact with them and be able to visit.

The Hague treaty would be meaningless unless Japan also updated its family laws, said Steve Christie, an activist with the International Association for Parent and Child Reunion. He said no agency is charged with following up domestic and international court orders to retrieve a child.
"A law without compliance is basically as valuable as the piece of paper it's written on," he said. "It's worthless. If you don't enforce it, then what's the point of even having it?"
E-mail to a friend

All About Japan • Tennessee • Child Custody